Theatrical Makeup and Resources
Mentone Educational is proud to offer a wide range of theatrical and stage makeup products. Our high quality products are produced by world-renowned makeup producers, Ben Nye. Mentone Educational's theatrical makeup is suitable for all consumers, from school plays to professional productions as there is a hugely diverse range of cosmetic and special effects products and all products are of the highest quality.
---
What is Theatrical Makeup?
Theatrical Makeup is commonly used to enhance or alter the physical appearance of an actor. For those in a live production, specific techniques are employed to create stage makeup that is exaggerated and significantly more dramatic than the theatrical makeup used in film. This ensures the appearance remains visible and effective in creating the image of their character for viewers who may be seated at a distance away.
Historically, performers used different coloured paints to portray various characters and used masks to disguise themselves as another gender, age or even species. Today, the production of film and theatre has evolved so dramatically that many new products and techniques have emerged to transform the appearance of actors­­ entirely. This provides users with the unique opportunity to create realistic expressions of characters in a safe and innovative way.
Types of Theatrical Makeup Products
At Mentone Educational, you will find an extensive range of theatrical and stage makeup products for sale. When you buy theatrical makeup from Mentone Educational, you are buying high quality products that can be used at every level and in every field of the creative arts. They are suitable for all school and professional stage productions and for those specialising in film and television.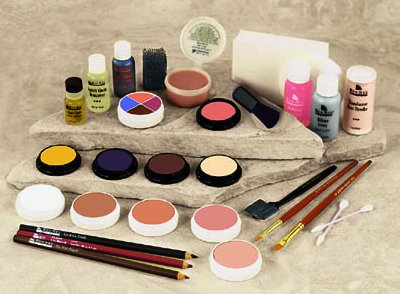 Mentone Educational's range of theatrical resources includes:
Adhesives
Adhesives are used to secure prosthetic appliances to the skin, such as beards, hair pieces or other materials.
Latex and sealers
Latex is useful for applying beards, simulating burn tissue or for creating dramatic ageing effects.
Cleansers
Cleansers are used to gently but thoroughly clean the skin and remove all makeup residue.
Powders and wax
Powders are suitable for mixing makeup to the perfect shade and wax is durable and pliable, perfect for prosthetic modeling.
Character kits
Use your own imagination or follow the instructions included to create specific characters such animals, clowns, witches or vampires.
Brushes and combs
Browse our selection of brushes and combs for a more precise, detailed and polished application of theatrical makeup.
Crème and Lumière colours
Use this range of bright, metallic and classic colour palettes for designing any unique makeup creation.
Glitter
Glitter comes in a variety of colours and can be used to add sparkle to the face or body.
Blood effects
Theatrical or stage blood is used as a substitute for real blood in a theatrical or cinematic performance.
Palettes
Palettes are convenient tools for mixing makeup to the perfect shade.
Sharpeners
Single or double sharpeners allow you to maintain a fine tip and continue to create precise looks with any eye or lip pencil or crayon.
Theatrical make up including blush, concealer, foundation, face powders, and eye, lip and hair products
These makeup essentials can be used by any working artist. They come in a range of colours, shades and types and complement each other perfectly, allowing you to create the correct skin tone and visual appearance. They can be applied to the face, lips, eyes, cheeks and hair.
Kits
Makeup kits come in a variety of skin tones and can be purchased as basic or deluxe kits, providing any makeup artist with the essentials to create any classic look.
Our high-quality products are available to buy in a number of different types and at several different prices. Mentone Educational offers competitive pricing, ensuring every individual can access to the highest quality theatrical makeup products and resources.
Leading Brands We Stock
Ben Nye
Ben Nye was formed in 1967 by renowned Hollywood film industry makeup artist, Ben Nye. This leading company has an extensive product line with a large range of professional cosmetic and special effects products. Ben Nye products have been used by many famous, notable and exceptional makeup artists in the film and theater industry and are used by consumers and professionals worldwide.
Equip yourself with the very best
Mentone Educational has made a name for itself by providing only the highest quality of physiology equipment and educational resources to schools, hospitals, practices and universities across Australia. Owned and operated by experts, we pride ourselves on delivering friendly, knowledgeable customer service, ensuring that our clients have the advice needed to make the most informed choice.
For information on any of our products, please do not hesitate to get in touch. Send us a message via email at sales@mentone-educational.com.au today or call us directly on (03) 9547 6638 at our Melbourne office for service across Australia.