Stethoscopes
Mentone Educational is proud to offer a wide range of stethoscopes that are suitable for clinical and educational use. Our high-quality, reliable products are manufactured by respected medical equipment manufacturers including ADC (American Diagnostics Corporation), Liberty Healthcare and 3M Littman. These medical equipment are used by medical professionals around the world because of their enhanced acoustic response, durability and modularity, enabling the attachment of a variety of interchangeable bells and adult and paediatric diaphragms. Buy now with confidence.
---
Models suitable for all areas of medicine
Manufactured from surgical stainless steel and machined to exacting tolerances, our products provide precision and reliability in a variety of clinical settings. When you buy equipment from Mentone Educational, you are buying a high-quality product that sees use at every level and in every field in medicine. The affordable prices available in our store allow access to the very best tools in the industry by medical students, nurses, general practitioners, specialists and other healthcare professionals.
Various types of stethoscopes
Here at Mentone Educational, you will find a wide range in the following categories:
Classic
Lightweight
Nurses
Cardiology
Electronic
The background
Until the early 1800s, doctors used to just put their ear to a patient's chest to listen to their heart. Then, in 1816, French physician René Laënnec discovered that sounds were amplified when a rolled-up tube was applied to the patient's chest, and the idea for a stethoscope was born. These days, auscultation (from the Latin of "to listen") is performed for the purposes of examining the circulatory and respiratory systems (heart and breath sounds), as well as the gastrointestinal system (bowel sounds). It is a skill used by doctors, nurses and other health professionals that requires clinical experience, a good-quality acoustic medical devices and great listening skills. Stethoscopes (from the Greek word stethos for chest) have continued to evolve and now allow physicians to detect heart murmurs, heart rates, wheezes and crackles in the airways, and bowel sounds. Electronic devices are the latest innovation, providing amplification as well as the reduction of ambient sounds for greater clarity.
Which type of Stethoscope is the best for my use?
The most often asked question is how to choose the RIGHT stethoscope. However, there is no definitive answer. It is more often down to a balance of performance, comfort, budget, technology, and personal preference. Not everyone needs to use a top-of-the-range acoustic medical devices. And even if you have the expertise and training to use the additional features or enhanced acoustic performance of the top models available, the price may not be justifiable for the amount of use you will be getting from your equipment. Some healthcare professionals are particular about the weight of their equipment, preferring lightweight models, while some prefer heavier units for maximum durability. Others might go for a specific brand, design or even colour.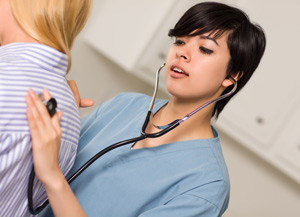 What does this cost?
Our high-quality products are available in a number of varieties and at several different price points. A reliable, entry-level acoustic medical devices suitable for general use, by nurses or medical students, can be purchased for prices between $20 and $50. For those who need a little extra sound and build quality a professional/specialised acoustic medical device may offer better sound for the user and be constructed of high-end lightweight metals. For example, there are specialised acoustic medical devices designed for paediatrics, cardiology and paramedic work. Each of these products feature unique benefits that make them ideal for working with different patients and in varied environments, including lighter weight components, increased durability, special diaphragms and/or bells, wider frequency ranges, enhanced sound oscillation. Top of the range cardiology and Sprague devices can set you back several hundreds of dollars.
How do I clean and maintain my device?
Because it comes into contact with many different patients and is often carried between different wards, apartments or homes, it is important to disinfect your equipment regularly and ideally between patients. Different parts of the equipment are made from different materials, which means that they have to be treated in different ways.
Chest piece and diaphragm: The chest piece and diaphragm arguably require the most frequent cleaning. To clean your chest piece, use a cotton ball soaked in 70% isopropyl rubbing alcohol or 70% rubbing alcohol prep pads and wipe the entire chest piece. To reach the harder to reach areas, such as around the stem, use a cotton swab soaked in rubbing alcohol.
Tubing: Most tubing is made of PVC. To clean your tubing, use warm, soapy water and a cloth or paper towel. Soak your paper towel or cloth in soapy water and wipe down. After wiping down your tubing, use another paper towel or cloth to dry.
Headset and ear tips: These parts can be wiped down with rubbing alcohol prep pads or swabs. Ear tips can often come off for thorough cleaning.
Many manufacturers will supply spare and replacement parts for their medical equipment, please ask for further details.
Can I purchase a teaching stethoscope at Mentone Educational?
Yes, you can. Ideal for use when training new members of your team, for an accurate second opinion or as a practical educational tool, the dual headsets of a teaching stethoscope allow instructors and students to simultaneously auscultate patients with high acoustic sensitivity.
Leading Brands We Stock
American Diagnostic Corporation
American Diagnostic Corporation (ADC) is one of the world's premier manufacturers of diagnostic medical products, personal instruments, and accessories for the healthcare industry. For more than 30 years, we've been dedicated to designing, manufacturing, and supplying acoustic medical devices that provide an unmatched value proposition with a purchase experience that is second to none.
3M Littman
Every 3M Littmann acoustic medical device delivers profession-leading innovations, engineering, advanced materials, precise manufacturing and a high level of consistent quality. All Littmann brands are built according to strict process and quality controls for tight consistency. That means any Littmann acoustic medical device you choose will provide a consistently high level of performance.
Liberty Healthcare
The Liberty® Health Seal of Quality ensures that the product you purchase is free from manufacturing or material faults and has a performance that you would expect for use by a health care professional. All Liberty® products are unconditionally guaranteed against manufacturing defects. 50 years of experience by our manufacturer makes Liberty® a quality product.
Equip yourself with the very best
Mentone Educational has made a name for itself for providing only the highest quality of physiology equipment and educational resources to schools, hospitals, practices, and universities across Australia. Owned and operated by experts, we pride ourselves on delivering friendly, knowledgeable customer service ensuring that our clients have the advice needed to make the most informed choice for themselves.
For information on any of our products, do not hesitate to get in touch. Send us a message via email at sales@mentone-educational.com.au today or we can be contacted at -
Mentone Educational
10-12 McWilliam St, Springvale VIC 3171
(03) 9547 6638