Stethoscopes
Mentone Educational is proud to offer a wide range of stethoscopes suitable for clinical and educational use. Our high-quality, reliable products are manufactured by respected medical equipment manufacturers including 3M Littmann, Liberty Healthcare and American Diagnostics Corporation.
These stethoscopes are used by medical professionals around the world for enhanced acoustic performance, reliability and durability. The standout features include interchangeable bells and double-sided adult and paediatric diaphragms for convenient, accurate assessment and diagnosis. Purchasing a stethoscope from Mentone Educational is a wise decision and compatible choice for medical professionals and students.
view more
---
Models suitable for all areas of medicine
Manufactured from surgical stainless steel and machined to exacting tolerances, our products provide precision and reliability in a variety of clinical settings. When you buy equipment from Mentone Educational, you are buying a high-quality product that sees use at every level and in every field in medicine. The affordable prices available in our store allow access to the very best tools in the industry by medical students, obstetricians, interns, educators, nurses, general practitioners, paediatric specialists, emergency physicians and other healthcare professionals including veterinarians.
Leading Brands We Stock
American Diagnostic Corporation
American Diagnostic Corporation (ADC) is one of the world's premier manufacturers of diagnostic medical products, personal instruments, and accessories for the healthcare industry. For more than 30 years, we've been dedicated to designing, manufacturing, and supplying acoustic medical devices that provide an unmatched value proposition with a purchase experience that is second to none.
3M Littman
Every 3M Littmann acoustic medical device delivers profession-leading innovations, engineering, advanced materials, precise manufacturing and a high level of consistent quality. All Littmann brands are built according to strict process and quality controls for tight consistency. That means any Littmann acoustic medical device you choose will provide a consistently high level of performance.
Liberty Healthcare
The Liberty® Health Seal of Quality ensures that the product you purchase is free from manufacturing or material faults and has a performance that you would expect for use by a health care professional. All Liberty® products are unconditionally guaranteed against manufacturing defects. 50 years of experience by our manufacturer makes Liberty® a quality product.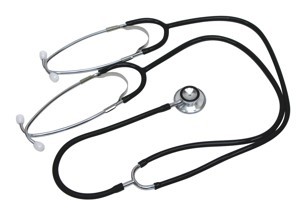 Which type of Stethoscope is the best for my use?
The most often asked question is how to choose the RIGHT stethoscope. However, there is no definitive answer. It is more often down to a balance of performance, comfort, budget, technology, and personal preference. Not everyone needs to use a top-of-the-range acoustic medical device. And even if you have the expertise and training to use the additional features or enhanced acoustic performance of the top models available, the price may not be justifiable for the amount of use you will be getting from your equipment. Some healthcare professionals are particular about the weight of their equipment, preferring lightweight models, while some prefer heavier units for maximum durability in choosing stethoscopes. Others might go for a specific brand, design or even colour.
What do stethoscopes cost in 2018?
Our high-quality products are available in a number of varieties and at several different price points. A reliable, entry-level acoustic medical device suitable for general use by nurses or medical students can be purchased for prices between $20 and $50. For those who need a little extra sound and build quality, a professional/specialised acoustic medical device may offer better sound for the user and are constructed of high-end lightweight metals. For example, there are specialised acoustic medical devices designed for paediatrics, cardiology and paramedic work. Each of these products feature unique benefits that make them ideal for working with different patients and in varied environments. These features include light weight components, increased durability, special diaphragms and/or bells, wider frequency ranges, and enhanced sound oscillation. Top of the range cardiology and Sprague devices for cardiologists are more expensive, but can definitely be worth the investment for medical professionals.
Who invented the stethoscope?
Prior to the 1800s, during the formative years of modern medicine and surgical techniques, medical practitioners ascertained heart function by placing their ear against the patient's chest. This procedure undoubtedly left patients and doctors feeling a little uncomfortable, particularly at a time when male doctors were the norm and a safe, chaste distance between the sexes was strongly encouraged.
In 1816, a French physician named Rene Laennec from the Necker-Enfants Malades Hospital in Paris devised an innovative solution. Laennec's stethoscope consisted of a simple wooden tube placed against the patient's chest, resulting in amplified sounds without the need for physical contact. Laennec called the device a 'stethoscope' (stetho-chest + scope). Modern stethoscope technology is primarily derived from the work of Dr David Littmann during his time at Harvard University in the 1960s.
How to use a stethoscope?
Although easy to use, there are simple guidelines and care instructions that ensure performance and wearability is improved. Here are a few tips.
Proper stethoscope headset and eartip alignment results in a comfortable fit, better acoustic performance and minimal sound interference. Eartips can be sized to fit or moulded into the right shape for improved auscultation.
Stethoscopes require an airtight seal for accurate transmission of body sounds. Loosely fitting chestpiece components, cracked tubing and ill-fitting ear tips all negatively affect stethoscope performance.
If using a double-sided stethoscope, the diaphragm or bell can be opened by rotating the chestpiece. When the diaphragm is open, the bell is closed, and vice versa, preventing unwanted sounds from disrupting accurate medical assessments.
A properly adjusted and maintained stethoscope will remain comfortable to wear even during extended periods of use.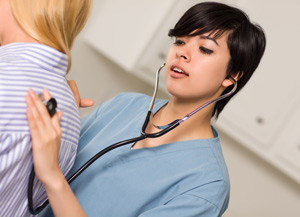 What is a stethoscope made of?
Modern stethoscope materials are the result of progressive medical science and dedicated design principles. For example, stethoscope manufacturers are gravitating toward revolutionary tubing materials that don't contain latex or phthalate plasticisers that react poorly with sensitive skin. Dual lumen tubing is an additional incentive, providing dedicated sound pathways that minimise interference. Headset tubing is the result of aerospace technology adapted for medical use, while only the highest quality polished stainless steel is used in the best chestpieces. Every component of a quality stethoscope is made from lightweight materials wherever possible to enhance ergonomic usability.
Can I use a stethoscope to hear a baby's heartbeat?
During the first four or five months of pregnancy, foetal heartbeats are usually monitored using a heart rate doppler. Thereafter, a stethoscope can be used to hear the baby's heartbeat, with ongoing auscultation post-birth easily accessed using a small paediatric chestpiece diaphragm.
How do I perform a check-up with a stethoscope?
Stethoscopes can perform more functions than most people realise, but every type of use is rewarded by proper wearing of a high-quality device. Simply put; the better quality the stethoscope, the easier it will be to achieve accurate diagnostic results. Some medical professionals prefer short, thick stethoscope tubing, while those accustomed to wearing the stethoscope around their neck are more inclined to longer stethoscope models. A snug fit is essential to diminish ambient noise, and many stethoscopes employ spring-sensitive headpieces for easy adjustment.
Patient needs will determine the chestpiece used. Stethoscope chestpieces are available for both adult and paediatric use, while the smaller paediatric side is also helpful for negotiating between bandages or for use with thin and small patients. It's important to use the stethoscope in a quiet place where background noise doesn't interfere with acoustic performance, and it's worth knowing that different results are attained with the patient standing, seated or supine (lying with face upwards).
Choosing to use the diaphragm or bell is another important consideration. The diaphragm has superior capability for hearing medium and high-frequency sounds, while the bell accesses low-frequency sounds. An electronic stethoscope affords even greater scope for accurate auscultation by providing additional amplification. Find a range of stethoscopes to purchase online.
What is the function of a stethoscope?
As stethoscopes have improved in quality and functionality, their use has expanded to assessment of various bodily sounds including:
Listening to heart sounds, establishing resting heart rate, and understanding abnormal sounds not associated with regular systolic and diastolic heart-valve noises.
Listening to the lungs to determine any abnormalities, while also comparing both lungs for consistency. Lung assessments can be performed on upper, middle and lower chest areas. High-pitched wheezing, rough air-flow and rattling sounds are all indicative of abnormalities.
Listening to abdominal sounds by locating the chestpiece in areas surrounding the navel. Growling sounds are normal, while a lack of sound can indicate abdominal problems.
Stethoscopes are also used to listen for bruits, check blood pressure, and even as a hearing aid for use with hard-of-hearing patients. Mentone Educational are purveyors of the best stethoscope range for use by medical professionals and students. High-quality and branded stethoscopes at an affordable price is our aim, and there are various considerations when choosing the right product. Factors include expected usage, performance, balance, comfort, budget and more. Check out our buyer's guide for stethoscopes perfect to gift and purchase for paramedics, paediatrician, respiratory specialist, student nurse, medical assistant, veterinarian, nurse, anaesthetist and medical students.
Mentone Educational stocks all major stethoscope brands including 3M Littmann, Liberty Healthcare and American Diagnostic Corporation to ensure our customers get the exact types of stethoscopes required for maximum patient benefit and physician comfort.
Equip yourself with the very best
The Mentone Educational reputation is built on customer satisfaction. We provide the highest quality medical equipment and educational resources for schools, hospitals, medical practices and universities across Australia. We pride ourselves on delivering friendly, knowledgeable customer service to ensure our clients have the advice needed to make a fully informed choice. For more information on the 2018 product range, email us at sales@mentone-educational.com.au or contact us at –
Mentone Educational
10-12 McWilliam St, Springvale VIC 3171
(03) 9547 6638