Buyer's Guide for ADC Stethoscopes
Author: Nicole Adler Date Posted:17 January 2018


American Diagnostics is one of the brands of stethoscopes that can be found at Mentone Educational. The brand is known for their reliable stethoscopes, but also for stethoscopes with versatile features. Therefore, the American Diagnostics brand certainly delivers some of the best stethoscopes for Australian clinicians.
Do you want to learn more about the stethoscopes from the American Diagnostics Corporation? Or do you want to determine which ADC stethoscope is best for your needs? Read our helpful information below to find out more!
Which ADC Stethoscope Is Right for Me?
To determine the best American Diagnostics stethoscope for your needs, it is essential to check out some of our most popular options and uncover their features. As is the case with most medical equipment, features are incredibly important, since these features can match your profession or not.
Let us use an example to illustrate the suitability of a stethoscope. If you work in paediatrics, an American Diagnostics stethoscope with an adult chestpiece will be useless, while a stethoscope with a smaller diaphragm – suitable for neonatal and paediatric patients – will prove most functional for you. Of course, if you deal with both adults and children in your profession, you may need an American Diagnostics stethoscope with a double-sided chestpiece; this is a stethoscope with a large diaphragm on one side and a small one on the other side.
In conclusion, the best stethoscope for your needs will be suited to your profession. Even though it is tempting to constantly look at reviews, you must incorporate your own requirements too. Therefore, we always suggest asking your colleagues for recommendations as well as checking out the existing American Diagnostics stethoscopes with their special features.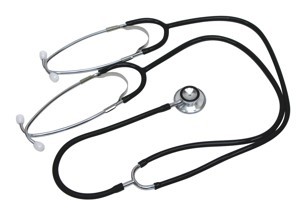 Top ADC Stethoscopes?
There are many stethoscopes from the American Diagnostics Corporation that are worth considering, since the company continuously releases some of the most reliable and trustworthy stethoscopes. However, two stethoscopes stick out for the Mentone Educational team; this includes the Platinum Clinician Stethoscope and the Nurse's Sprague Stethoscope.
As the names of these stethoscopes indicate, the stethoscopes are made for doctors and nurses specifically. By having such a dedicated stethoscope, it could make your daily tasks easier, whether you are a nurse or a doctor working in a hospital.
Want to learn more about the Platinum Clinician Stethoscope and the Nurse's Sprague Stethoscope? Find out more in the detailed product descriptions below.
Platinum Clinician Stethoscope – Adscope 615
The Platinum Clinician Stethoscope from the American Diagnostics Corporation is certainly favourited amongst Australian clinicians. The stethoscope successfully combines the acoustic response of the traditional open bell as well as a diaphragm, and combines it in a one-sided chestpiece.
To provide the outstanding acoustic response, the American Diagnostics Corporation uses AFD technology; this technology provides clinicians with the option to adjust pressure to distinguish between high and low frequency responses.
The Platinum Clinician Stethoscope is also equipped with a special clinician's headset. Tests have shown that the headset can withstand thousands of cycles; this thanks to the double-leaf tensioning spring and durable PVC-tubing.
ADC Platinum Clinician Stethoscopes also contain special silicone ear tips. These ear tips have an improved snap-on connection, providing superior comfort for the clinician who is using them. These ear tips also create an acoustic seal, which allows for better acoustics during physical examinations. The binaural of this stethoscope is also set on an angle of 15 degrees, also enabling improved comfort.
Nurse's Stethoscope Sprague Stethoscope – Adscope 647
Nurses who are looking for the perfect stethoscope for their profession, whether they are working in a doctor surgery or a hospital, should certainly consider the Adscope 647 Sprague stethoscope from the American Diagnostics Corporation.
The Adscope Sprague Stethoscope comes with a threaded chestpiece drum. The threaded chestpiece allows nurses to use five different chestpiece fittings; this is often necessary since nurses can be working in more than one hospital unit. The interchangeable chestpieces that can be used with this stethoscope is the adult diaphragm, paediatric diaphragm, and three bells.
To ensure the Adscope 647 stethoscope is suitable for all nurses, American Diagnostics chose an extra tubing material which does not contain natural latex. Since latex is a material that could cause allergic reactions, it is no longer recommended for use in a medical environment.
The Adscope Sprague Stethoscope also comes with outstanding acoustics. Firstly, the stethoscope is equipped with a proprietary valve mechanism; this mechanism prevents acoustic leaks during physical examination. The stethoscope also has an adjustable aluminium binaural, which promote optimal comfort for the nurse using the stethoscope.
When you choose an Adscope Sprague Stethoscope, you can also enjoy an accompanying accessory pouch; this pouch will contain your interchangeable bell pieces, spare diaphragms, chestpiece key, hard ear tips, and soft clear ear tips. With these accessories, nurses can easily customise their stethoscope on the job.