Just Starting to Use a Stethoscope? Discover Our Tips for Beginners Today!
Author: Nicole Adler Date Posted:14 March 2018


Using a stethoscope for the first time can feel like a daunting process, but it does not have to be that way! Check out the useful guide for beginners at Mentone Educational, which can help you start using your stethoscope in the right manner!
What Are Some Good Beginner Tips for Using the Stethoscope?
When you use a stethoscope, it is best to do the auscultation in a quieter environment. Of course, this is not always possible since some medical professionals must deal with noisy environments. Still, if you can test your stethoscope for the first time in a quieter place, it is advised to do so.
Once you have your stethoscope in hand, it is time to use your chestpiece. Of course, the chestpiece should be used properly, because you must distinguish between low and high frequency sounds. Most chestpieces have two sides for this, with one side providing low frequency and the other side a high frequency. However, there are also stethoscopes with tuneable technology, where the same side of the chestpiece is used, but applied pressure will be different.
The remainder of stethoscope use is more of a medical nature, more specifically listening for certain sounds that could indicate a problem. Since these sounds are covered in medical school in detail, we will not mention them in detail today.
In conclusion, the most important thing to remember about stethoscope use is ensuring an environment with as little ambient noise as possible. Also, make sure you familiarise yourself with the type of chestpiece and its use before starting the examination.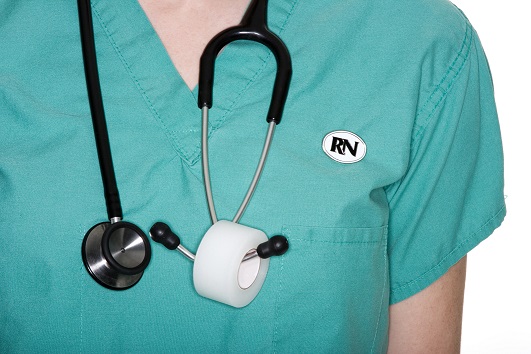 What Are the Best Stethoscopes for Students?
Some stethoscopes are better for students than others. If you are not yet familiar with stethoscopes, it is best to keep things simple. Try to choose a stethoscope such as the 3M Littmann Classic III Stethoscope, which provides you with all the necessary features and is not too complicated to work with.
The 3M Littmann Classic III Stethoscope can be used after medical school too. Many doctors and nurses use the 3M Littmann Classic III Stethoscope in their practice, so you can start enjoying the impeccable acoustics of this Littmann stethoscope as soon as you start medical school.
What Should You Consider When Choosing Your First Stethoscope?
There are some things you should consider when you obtain your first stethoscope. As mentioned briefly earlier, it is quite important to keep things simple. An overly complicated stethoscope will not make your studies any easier, so before you upgrade to a top-of-the-line stethoscope with loads of features, be sure to choose one of the simpler models available.
Price will also be important for your first stethoscope since most clinicians obtain their first stethoscope when they are still in medical school. Medical studies are quite expensive, so students often do not have much money to invest in a stethoscope. However, there are some brands that provide reliable stethoscopes for an affordable price; this includes the Littmann brand. So, if cost is somewhat of a concern, be sure to check out available stethoscopes from the Littmann stethoscope brand.
What Are the Most Popular Stethoscopes for Beginners?
As you can imagine, some stethoscopes are more popular for beginners than others. Below, you will find the top three of Mentone Educational stethoscopes for beginners. So, when in doubt, be sure to choose one of the following options.
1. Liberty Cardiology Ultrasharp Stethoscope
Our Liberty Cardiology Ultrasharp Stethoscope is quite a popular choice for medical students. The stethoscope has a sharp price, but also provides the acoustics required to practice diagnosis during studies. The stethoscope comes with some silicone ear tips, but also a two-in-one tube system for optimal sound conduction.
2. Littmann Select Stethoscope
Another affordable option for beginners is the Littmann Select Stethoscope. Even though this stethoscope is quite an affordable choice, it still comes with some marvellous features and acoustics.
We must mention that the Littmann Select Stethoscope is designed for nurses and EMT's. Therefore, we suggest that students in these professions choose the Littmann Select Stethoscope.
3. 3M Littmann Classic III Stethoscope
Our final affordable choice for students is the 3M Littmann Cardiology III Stethoscope. The stethoscope comes with a double-sided chestpiece as well as next-generation tubing, providing the stethoscope with added durability as well as outstanding acoustic performance.
The 3M Littmann Classic III Stethoscope is not just a good option for EMT's and nurses, it is also a great choice for anyone studying to become a doctor. So, this is a great all-rounder for anyone studying in a specific field of medicine.
What Are Some Affordable Stethoscope Models for Beginners?
Our most affordable stethoscope models are also our most popular ones, so the stethoscopes mentioned above are the most affordable options in the Mentone Educational range. Check out our catalogue today to discover their price and their additional benefits.