How to Choose the Best Brand Stethoscope for Your Needs?
Author: Nicole Adler Date Posted:14 March 2018


Some stethoscope brands fit certain medical professionals better, so it is certainly a good idea to consider your stethoscope brand carefully. Today, we have created a guide listing some of the best stethoscope brands out there, but also which medical professional they fit best. So, if you wish to determine which stethoscope brand might be the best option for you, be sure to check out the suggestions from the Mentone Educational team below.
What Is the Best Brand of Stethoscope?
There are hundreds of stethoscope brands out there, so it can be difficult to choose just one favourite. To ensure clinicians keep their options open, Mentone Educational has selected the top three stethoscope brands available today, so medical professionals can make a more informed choice.
The three top brands of stethoscopes available today include the American Diagnostics Corporation, Littmann, and Liberty Health. Each of these brands provides outstanding features and top functionality, so we urge customers to consider each brand carefully before making their decision.
What Is the Best Brand of Stethoscope for a Medical Student?
Medical professionals usually benefit the most from choosing a stethoscope that is a popular choice amongst other medical professionals; this so they can get some assistance if they struggle with the operation of their stethoscope upon first use. Therefore, we always suggest a stethoscope from the Littmann range for medical students.
Of course, there are more reasons why students could benefit from a Littmann stethoscope. One of the additional reasons is the affordability of the Littmann stethoscope. Students usually do not have much money to invest while they are paying for medical school, so an affordable stethoscope brand should certainly benefit them.
We must mention that affordability does not mean that Littmann compromises on the quality of Littmann stethoscopes. Littmann stethoscopes are known for their outstanding acoustics and durability, which immediately explains why these affordable stethoscopes are a popular choice amongst graduated medical professionals too.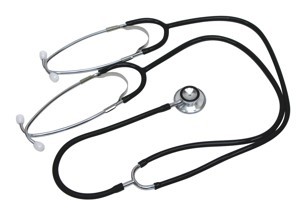 What Is the Best Brand of Stethoscope for Your Medical Profession?
The stethoscope needs of medical professionals can vary considerably. For example, specialists such as cardiologists need enhanced acoustics, while paediatricians need a stethoscope with a smaller chestpiece to ensure optimal contact with the patient. The general practitioner may not need the same acoustics as a cardiologist, but they still require durability and versatility for their practice.
Since every medical professional can have unique needs for their stethoscope, it can help for them to write down the main features they need from their stethoscope. Once it comes down to selecting your stethoscope, you have your features at hand to help you decide.
Clinicians can also ask our expert team for advice, who are fully familiar with the range of stethoscopes available. You can also stop at our showroom to request a demonstration of your favourite stethoscopes, after which you can make a more informed decision.
What Is the Best Brand of Stethoscope for a Paramedic?
Even though paramedics have almost free reign when it comes to the selection of their stethoscope, there are some stethoscopes out there that are specifically created for paramedics. One of these stethoscopes is the Littmann Select Stethoscope, an electronic stethoscope with excellent acoustics.
The Littmann Select Stethoscope may be one of the most affordable stethoscopes in the Littmann range, it does not mean that this stethoscope comes with inferior acoustics. Quite the opposite, because this stethoscope is listed as high-performance and cardiology. Therefore, paramedics will get loads of use from this outstanding stethoscope.
When a paramedic chooses the Littmann Select Stethoscope, they can count on the additional benefit of soft-sealing ear tips. The soft-sealing ear tips incorporated into the design of the headset ensure there is no leakage of sound during a diagnosis, but they also reduce ambient noise. Now, this feature is extremely important for paramedics since they must often diagnose patients in environments with loads of ambient noise.
What Is the Best Brand of Stethoscope for a Paediatric Doctor?
Much like cardiologists, paediatricians will require a special stethoscope to render a diagnosis. There are special paediatric stethoscopes available, which will have a smaller chestpiece than an adult stethoscope.
Of course, there are some medical professionals that must diagnose both adult and paediatric patients. For these specialists, there are stethoscopes with a double-sided chestpiece. One side of the chestpiece will have an adult diaphragm, while the other side will have a smaller diaphragm suitable for paediatric and neonatal patients.
In conclusion, before you choose a stethoscope for paediatrics, it is vital to determine if you will treat adult patients too. If this is the case, you could benefit more from a stethoscope that contains both an adult and paediatric diaphragm. If not, then a paediatric stethoscope from our collection should suffice to render an accurate diagnosis of paediatric and neonatal patients.