Electronic Stethoscopes Explained by Australia's Leading Stethoscope Supplier Mentone Educational!
Author: Nicole Adler Date Posted:14 March 2018


An electronic stethoscope can be the perfect upgrade if you are using a mechanical stethoscope. Of course, it is advised to get more familiar with the principle of the electronic stethoscope before you make the switch. So, when in doubt about an upgrade, be sure to check out our useful guide to electronic stethoscopes.
What Are the Best Electronic Stethoscopes?
Some electronic stethoscopes stand out head and shoulders above the rest. At Mentone Educational, you can find the best electronic stethoscopes from brands such as Littmann, the American Diagnostics Corporation, and Liberty Health.
We must mention that the features and general operation of electronic stethoscopes may vary according to the brand you have chosen. Therefore, be sure to check out each of these three brands to determine the best electronic stethoscope for your needs.
One of the best electronic stethoscopes on the market today is the 3M Littmann Electronic Stethoscope. With this exquisite stethoscope, clinicians can record and save up to twelve patient sound tracks, each thirty seconds long. It also allows the clinician to transmit sounds via Bluetooth technology, providing medical professionals with the tools for patient education.
With the Littmann Electronic Stethoscope, you can also obtain some of the premium benefits you may experience with your current mechanical Littmann stethoscope. One of these benefits is the next-generation tubing, a special compound used to create the tubing of Littmann stethoscopes.
Next-generation tubing is more resistant to skin oils and alcohol, which means that the tubing material has some extra protection against common causes of wear and tear. The next-generation tubing is just as flexible as the tubing of mechanical stethoscopes too, which means you can reliably flex the electronic stethoscope during your daily operations at the hospital or doctor surgery.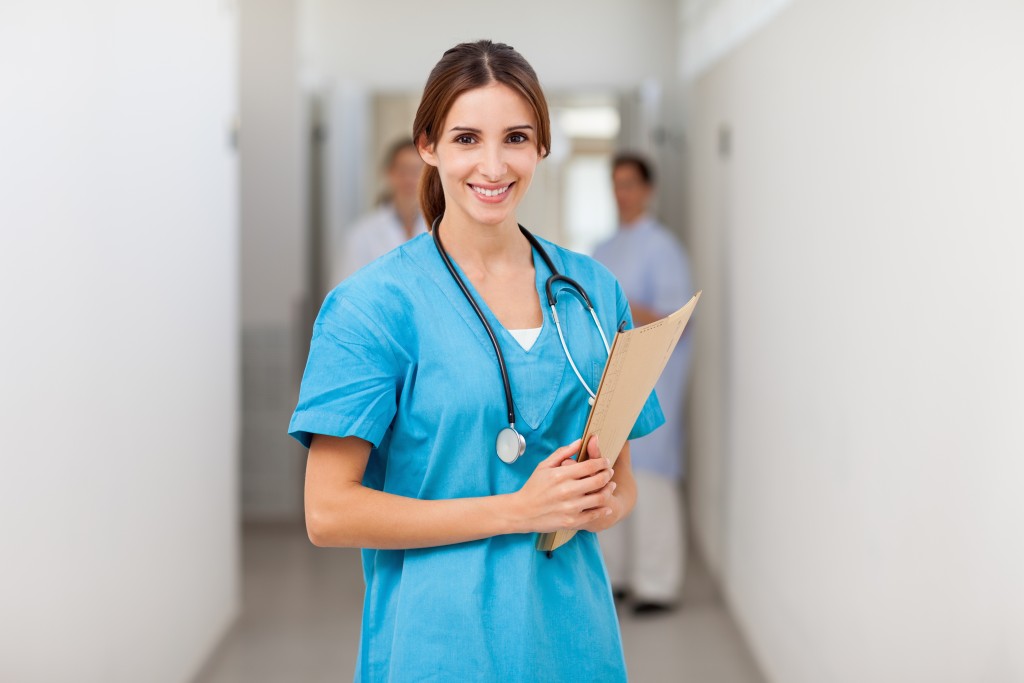 What Are the Best Features of Electronic Stethoscopes?
Much like stethoscope brands, some features of electronic stethoscopes tend to stand out. Below, we have listed the most popular features of electronic stethoscopes, which could help you decide if an upgrade to an electronic version is the right choice for you.
One of the outstanding features of an electronic stethoscope is the amplification of sound. During an examination, an advanced stethoscope allows you to increase the volume of the transmitted sound; this could help you make a difficult diagnosis.
In addition to the amplification of sound, an electronic stethoscope also reduces some of the ambient noise that can occur in medical environments. Naturally, this could also contribute to a quicker and more accurate diagnosis.
Finally, there are electronic stethoscopes allowing medical professionals to listen to an examination remotely. The remote listening feature can occur through Bluetooth, but also dedicated systems such as the Littmann TeleSteth System.
Depending on the type of electronic stethoscope you obtain, the features may vary considerably. So, before you choose an electronic stethoscope, be sure to check the additional features accompanied by that stethoscope brand.
Who Would Benefit from Using an Electronic Stethoscope?
There are numerous healthcare professionals that could benefit from a decent electronic stethoscope. Not only does it increase the chances of a successful diagnosis, it also enables clinicians to explain certain conditions to the patient in more detail with the help of their stethoscope.
Electronic stethoscopes are mainly recommended for specialists who require enhanced acoustics; this includes cardiologists. It is also a fantastic choice for healthcare professionals who cannot hear what they must hear with their mechanical stethoscope.
Of course, you do not have to be a specialist to enjoy the benefits of electronic stethoscopes. Many general practitioners and nurses make the upgrade to the electronic stethoscope too, mainly because of the time it can save for a diagnosis.
What Benefits Do Electronic Stethoscopes Have Over Other Types?
Naturally, electronic stethoscopes tend to have some benefits that mechanical stethoscopes do not have. The main benefits of electronic stethoscopes include amplified sound transmission, an improved frequency range, enhanced ambient noise reduction, recording and replaying patient sound tracks, and reduced diagnosis times. In some cases, an electronic stethoscope can come with a visual display, which delivers an additional set of benefits to medical professionals.
To determine which benefits an electronic stethoscope will have for you, especially after upgrading your mechanical stethoscope, it is a good idea to check out each available electronic model in more detail. Think about the additional features the electronic version provides and how it compares to your current mechanical stethoscope.
What Colours Do Electronic Stethoscopes Come In?
Electronic stethoscopes may come in a variety of colours these days. The colours available for your stethoscope will be subject to the brand. For example, the colour range of electronic Littmann stethoscopes will be different than the electronic stethoscopes from Liberty Health. Therefore, it is always a good idea to browse the various brands to uncover the available colours.