Want to Buy a Stethoscope? Get the Details at Mentone Educational!
Author: Nicole Adler Date Posted:14 March 2018


Are you looking to buy a new stethoscope, but not certain where to start looking? Get the details on buying a new stethoscope for your practice, surgery, or clinic at Mentone Educational. Read the information below before you purchase a stethoscope to ensure you get the best one.
Where Can I Buy Medical Supplies Such as Stethoscopes?
Mentone Educational is Australia's leading supplier of stethoscopes. In our catalogue, medical professionals can find brands such as the American Diagnostics Corporation, Liberty Health, and Littmann. Each brand provides clinicians with loads of features and outstanding acoustics, so whichever brand you choose, you can always expect top functionality.
Of course, there are some minor differences between the various stethoscopes available at Mentone Educational. Therefore, we always recommend that healthcare professionals look at the various stethoscope models in more detail. Based on their own research, they can determine which of the stethoscopes will fit their own criteria best.
We must also mention that Mentone Educational does not offer stethoscopes alone. We also provide an exquisite collection of other medical supplies; this includes physiology equipment, simulation materials, charts, posters, health education equipment, and more. To get a full overview of our medical supplies, please refer to the main menu on the Mentone Educational website or visit our showroom.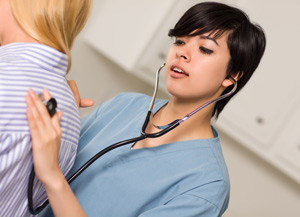 Where Can I Buy High-End Stethoscopes?
Since Mentone Educational provides a large selection of stethoscopes, clinicians can also find some high-end options in our collection. If you are looking for top-of-the-line stethoscopes, whether they are mechanical or electronic in nature, you are bound to find it in the catalogue or showroom at Mentone Educational.
What Features Should You Look for When Buying a Stethoscope?
The features of your new stethoscope depend on what your requirements are. For example, if you are a cardiologist, then enhanced acoustics will be a top priority for a stethoscope. However, if you are a paediatrician, you will need a stethoscope with a smaller chestpiece to guarantee good contact during an examination.
Of course, the need for unique features is not just limited to specialists such as cardiologists and paediatricians. Other medical professionals such as paramedics, nurses, and general practitioners might have unique requirements for their stethoscope too.
To determine which features matter most to you, it can be a good idea to write down the features that are most important for your job. For example, if you are a paramedic, then you must have a stethoscope that can reduce ambient noise. Since paramedics often need to render diagnosis in noisier environments, ambient noise reduction is usually the number one feature they are looking for.
Once you have written down all the features you want from your stethoscope, you can start browsing our collection. If you want to find the right stethoscope quicker, you can also filter down the results by using the subcategories under the stethoscopes main menu.
What Stethoscope Should You Buy as a Gift?
It is usually a good idea to buy a high-end stethoscope with some engraving as a gift. While you are certainly not obligated to obtain a high-end stethoscope, top-of-the-line stethoscopes usually have added durability and additional features that could prove useful on the job.
In addition to adding some engraving to the gift stethoscope, it is also a good idea to add a personal letter or a gift card with a lovely message. Gift stethoscopes make a wonderful gift upon graduation, but they are also an option when a clinician receives a promotion.
What Stethoscope Should a Student Buy?
The stethoscope needs of students are usually a little different than the needs of graduated clinicians. Of course, this does not mean that a student should obtain a stethoscope with inferior acoustics. Medical students should always have a good stethoscope, which means good acoustics and durability. However, most medical students will require a stethoscope that is a little more affordable, since medical school can be incredibly expensive.
Mentone Educational provides many stethoscopes for an affordable price; this includes stethoscopes from renowned brands such as Littmann, the American Diagnostics Corporation, and Liberty Health. By looking at these brands, you can discover affordable stethoscope options that still provide students with the functionality required.
Of course, not all medical students choose the most affordable option for medical school. Some percentage of students choose to invest in a high-end stethoscope, which they use after graduation. If you decide to choose such a stethoscope, we suggest one of the advanced electronic options in the Littmann range, which can provide you with added benefits such as sound amplification, reduced ambient noise, and sound track recording.
Do you need some help picking out the right stethoscope for your studies? Or would you like to obtain more information about a student stethoscope before purchasing? Feel free to contact the Mentone Educational team today for more information.