Looking for the Best Stethoscope? Read Our Useful Guide Below!
Author: Nicole Adler Date Posted:9 March 2018


Choosing a new stethoscope requires careful evaluation, since there are so many features that could make your job easier! Today, we created a detailed guide, providing you with all the essential information you must know before purchasing your new stethoscope.
What Are the Three Things You Need to Know When Choosing a Stethoscope?
Since there are so many things to consider, it can help to narrow down your criteria to three basics. Below, we have described the three essential criteria everyone should look at before purchasing a microscope, so it could certainly help you decide.
The Chestpiece
One of the parts you must evaluate before choosing a new stethoscope is the chestpiece. To ensure you have a stethoscope of good quality, the chestpiece must be made from a high-density material; this ensures maximum durability and performance.
Clinicians must be aware that there is a difference between hand-polished chestpieces and machined finishes. Hand-polished chestpieces usually provide a clearer sound transmission, while machined finishes add more durability.
The Headset
Another important part of your stethoscope is the headset, which should be made from a strong material and must be angled in the right position. For most stethoscopes, the angle is determined at fifteen degrees.
The Tubing
Tubing is a common concern for many clinicians, since this is usually the part of the stethoscope that goes first. The tubing of a stethoscope encounters skin oils and alcohol daily, so a tubing material that is more resistant to these compounds will be recommended for your stethoscope.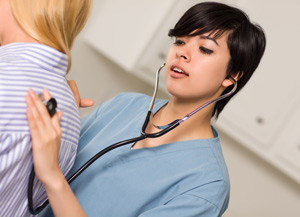 How Do I Choose the Best Headset?
Since the headset is one of the most important parts of your stethoscope, let us take a closer look at the things you must look out for.
Firstly, it is important to choose a headset that can be adjusted. Every clinician has a different head size and it is impossible to cater to all those head sizes with a basic headset size. With an adjustable headset, you can increase or decrease the size of the headset as required.
Clinicians should also know that headsets can come with special ear tips that can reduce some of the ambient noise in the medical environment. The size of these ear tips is important too, so make sure that your stethoscope comes with ear tips in various sizes to ensure optimal comfort and sound transmission.
How Do I Choose the Best Chestpiece?
Chestpieces are incredibly versatile these days, especially since brands create chestpieces with their own patented technology. However, the choice does not have to be impossible, since you simply look for the basics we mentioned earlier; this includes a chestpiece made from a high-density material and a good finish.
How Do I Choose the Best Diaphragm?
When it comes to evaluating the most important parts of your stethoscope, it often comes down to the same basic things. Much like the chestpiece, you want to evaluate the diaphragm on durability and quality, since this is probably the piece of your stethoscope that demands the most reliability.
Before you purchase your stethoscope, it is also a good idea to check for any extra or replacement diaphragms that can be delivered with your stethoscope. Some stethoscopes already come with an extra diaphragm, while others may require you to purchase an additional one separately.
Having an extra diaphragm for your stethoscope is quite useful. Even the most durable diaphragms are subject to mishaps, so having that spare ensures your stethoscope is always fully functional.
How Do I Choose the Best Tubing?
Finally, the tubing material of your stethoscope demands special consideration. As we mentioned earlier, tubing encounters many harmful compounds while it is being used in a medical environment, so the material used for tubing must be incredibly strong.
Most reliable stethoscope brands such as Littman provide their own patented tubing. To take Littmann stethoscopes as an example, their stethoscopes are made from next-generation tubing. The tubing is completely free of latex, but also more resistant to those compounds that could otherwise cause it harm; this includes skin oils and alcohol.
Of course, tubing material must also contribute to the overall acoustics of your stethoscope. The tubing must be thick and durable; this ensures that the transmitted sound is completely closed off from ambient noise, but it also prevents any sound leaks.
Please note that the tubing of certain stethoscopes can be longer than others; this enables physicians to keep more distance from a patient during an examination. While some professions require this, most clinicians do not require the extra length.
Can Mentone Educational Help Me Choose a Stethoscope?
Cannot decide on a stethoscope, even with our detailed guide? You can always count on the expert advice of our team! Contact the Mentone Educational team for some stethoscope information today!