Classic Stethoscopes
The 3M™ Littmann® Classic III™ Stethoscope is the latest version of the stethoscope that helps millions of medical professionals achieve their best. The Classic III stethoscope is a dependable clinical tool that provides high acoustic sensitivity for performing general physical assessments. With a two-sided chestpiece, dual tunable diaphragms, convertible open bell, improved tubing, and much more, the Classic III stethoscope combines the best of new and traditional.
More
Tunable diaphragm technology—a 3M invention—lets clinicians hear different frequency sounds by simply adjusting the pressure on the chestpiece. Hold the chestpiece with light pressure to hear low frequency sounds; press a little more to hear higher frequency sounds. This time-saving feature allows the healthcare provider to focus on the patient, while the non-chill diaphragm provides patient comfort.
Headset tension is easily adjusted for head size and comfort by squeezing together or pulling apart the ear tubes. Snap-tight, soft-sealing eartips conform to individual ears for an excellent acoustic seal and comfortable fit. Eartips snap firmly onto the ends of the ear tubes and, for safety, require a significant effort to remove.
Resilient next-generation tubing retains its shape and flexibility even after folding tightly into a pocket. It provides longer stethoscope life due to improved resistance to skin oils and alcohol, and is less likely to pick up stains. Next-generation tubing is not made with natural rubber latex, a benefit to sensitive medical professionals and their patients. And, to play its part in the protection of human health and the environment, the next-generation tubing does not contain phthalate plasticizers.
Classic Stethoscopes at Mentone Educational
Here at Mentone Educational, we offer the Classic stethoscope in a range of colours to suit your individual style, or to match your scrubs, uniform or company colours. Choose from different colours of tubing, as well as various type of finish on ear tubes and chestpieces.
Benefits of the classic stethoscope:
Two-sided chestpiece with tunable diaphragms on both the adult and paediatric sides.
Single-piece tunable diaphragm is easy to attach, and easier to clean because its surface is smooth without crevices.
Paediatric side converts to a traditional open bell by replacing the single-piece diaphragm with a non-chill rim.
Next-generation tubing provides longer life due to improved resistance to skin oils and alcohol; less likely to pick up stains.
Small tunable diaphragm is useful for paediatric, small, or thin patients; around bandages; and for carotid assessment.
Stainless steel chestpiece is precision-machined into an aesthetically pleasing, less angular shape. The stem features open side indicator.
Snap-tight eartips have a soft, smooth surface providing a comfortable acoustic seal and comfortable fit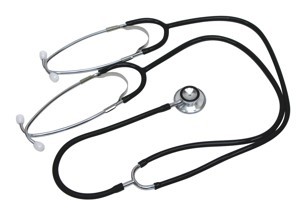 Is a classic stethoscope the right model to choose?
There are a number of different types of stethoscope on the market, and although some have particular attributes to make them suitable for specialist fields such as cardiology and paediatrics, in general choosing a stethoscope is as much down to your personal preferences, situation and budget as anything else. You may prefer to go for a lightweight stethoscope, or may prefer a stethoscope with a slightly heavier but more solid feel. You may have a preference for a certain brand, or want to choose a particular finish and colour.
Auscultation is a skill that requires substantial clinical experience, as well as a decent quality stethoscope and the ability to listen carefully. Health professionals listen to three main organs and organ systems during auscultation: the heart, the lungs, and the gastrointestinal system. When auscultating the heart, doctors listen for abnormal sounds, including heart murmurs, gallops, and other extra sounds coinciding with heartbeats. Heart rate is also noted. When listening to lungs, breath sounds such as wheezes, crepitation and crackles are identified. The gastrointestinal system is auscultated to note the presence of bowel sounds.
The following conditions and equipment will help you perform a proper auscultation:
A quiet, well-lit, warm room.
An appropriately disrobed patient. This allows you to place the stethoscope directly on the chest or back and will eliminate distortions and frictional noise from clothing.
The ability to examine the patient supine, sitting, and in left lateral recumbent positions. You may hear different sounds, especially abnormal ones, in different positions.
A stethoscope with both a bell and diaphragm (or the capacity to act as a bell and diaphragm) is essential.
Does Mentone Educational stock other types of stethoscope?
Yes, here at Mentone Educational you will also find nurses stethoscopes, teaching stethoscopes, lightweight stethoscopes, paediatric and infant stethoscopes, electronic stethoscopes and cardiology stethoscopes from a variety of manufacturers. You can view our whole range here. Check out our buyer's guide to help you too!