Buyers Guide for Classic Stethoscopes
Author: Nicole Adler Date Posted:15 November 2017


Littmann stethoscopes are favoured by doctors and medical students for all the right reasons. The company has a proud history of stethoscope manufacture dating back to the 1960s, when Dr David Littmann of Harvard University began creating lightweight portable devices with superior auscultation properties. The Littmann range has expanded dramatically since then, with the Classic series models becoming enduring favourites. It's not by chance that Littmann stethoscopes continue to garner favourable reviews, with every new classic series development showcasing superior components, durability, and consistently accurate medical assessments.
What are the Littmann Classic Stethoscope advantages?
Tuneable diaphragms are a major Littmann innovation worth serious consideration. Littmann Classic Stethoscopes include dual frequency auscultation on both the adult and paediatric sides of the chestpiece, providing superior listening of both high and low-frequency sounds without the need to remove and reposition the device. The ingenious innovation enables convenient patient assessment as follows:
Low pressure on the chestpiece (bell mode) provides auscultation of low-frequency sounds
Firmer pressure on the chestpiece (diaphragm mode) provides auscultation of high-frequency sounds
Tuneable diaphragms enable a wide variety of assessments. For example, the smaller chestpiece side can assist with paediatric, carotid and pulse auscultation.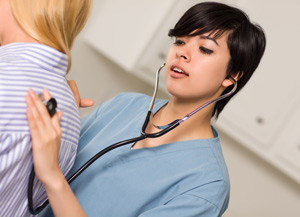 What Littmann Classic Stethoscopes are available?
Choosing the appropriate stethoscope for medical practice or study is easy, thanks to the vast Littmann range. Each stethoscope style has been developed and refined for use in specialised medical fields, and Littmann Classic stethoscopes showcase broad functionality, including:
Littmann Classic III: This is an extremely versatile model suited to both adult and paediatric use. It is lightweight, reliable, and provides excellent acoustic performance. The two-sided chestpiece is tuneable, with the additional advantage of the paediatric side able to convert into an open bell by replacing the diaphragm with a non-chill rim (included). The Classic III, available in appealing colours, is considered appropriate for medical practitioners, clinical professionals, nurses and students.
Littmann Master Classic II: A simpler version of the Littmann Cardiology Stethoscope, the Classic II provides outstanding acoustic performance. The single-sided chestpiece is designed for adult use and features a tuneable diaphragm for auscultation of both high and low-frequency sounds. The Littmann Master Classic II is worth considering for medical professionals and students who don't engage in paediatric assessments.
Littmann Classic II S.E.: Considered and excellent starter model stethoscope, the Littmann Classic II S.E. is extremely popular with students and doctors. The chestpiece has a traditional open bell on one side and a tuneable diaphragm for assessing high and low-frequencies on the larger side. For those on a limited budget, the Littmann Classic II S.E. is hard to beat.
Littmann Classic II Paediatric & Infant: These stethoscope versions have smaller chestpieces than the regular Classic II model. The paediatric model is most useful for assessing children up to 12 years old, while the infant stethoscope is specially designed for neonates.
Littmann Classic Stethoscope price
Littmann Classic Stethoscopes are manufactured in the United States using the best design principles courtesy of progressive medical science. They are made from first-class, lightweight materials that provide durable use for many years of reliable service. Littmann Classic III Stethoscopes come with a full 5-year warranty, making the price of $130-$145 including GST extremely affordable for such an essential medical device. For only a few dollars more, Littmann Paediatric Stethoscopes are equally good value.
What about the Liberty Classic Tuneable Stethoscope?
There are a lot of good reasons to consider a Liberty Classic Tuneable Stethoscope including tuneable dual-frequency adaptability, 'Superflex' tubing, and non-corrosive titanium components. Features include:
Tuneable diaphragm for superior auscultation of high and low-frequency sounds
Manufacture free of rubber latex or phthalate plasticisers
Ergonomic design qualities for comfortable wearing even during extended use
Durable, highly-finished components and materials
Stethoscope colour choices to suit personalised style
What are the best stethoscopes?
At Mentone Educational, we only provide the best products recommended by highly qualified medical professionals. Our range is unsurpassed, including famous brands such as 3M Littmann, Liberty Healthcare and American Diagnostic Corporation. The Mentone Educational commitment to quality provides certainty that your purchasing decision is the right one for every type of stethoscope use.