Learn Everything You Must Know About Stethoscope Costs!
Author: Nicole Adler Date Posted:9 March 2018


Some stethoscopes can be quite an investment, while others are remarkably affordable. But what does this difference between costs mean? Is a cheaper stethoscope not as good as the most expensive one? To find out, be sure to read through the information we have provided below.
How Much Does a Stethoscope Cost?
The cost of a stethoscope is quite variable, since it all depends on the brand you obtain. Some brands use their patented technology and parts, which can be more affordable or more expensive than the standard.
While cost is important, the features and reliability of your stethoscope are more important. Therefore, the perfect stethoscope will have a good quality versus price ratio; this also means you should not overpay for a stethoscope, since the best stethoscopes are not always the most expensive!
What Is the Cost of a Good Stethoscope?
The cost of a decent stethoscope can be anything between $13 to $400. Yes, it can be that much of a difference because you must consider training and nurse stethoscopes too. A lightweight nurse stethoscope from our range can cost as little as $13.09 while an advanced Littmann Cardiology IV Stethoscope can be over $280. So, the price you will pay for a stethoscope depends heavily on your needs.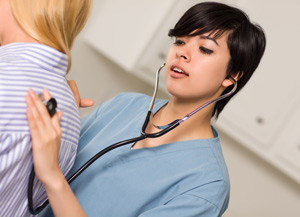 What Are the Lowest Cost Stethoscopes?
Lowest cost stethoscopes are usually designed for nurses and trainees. One prime example of such a stethoscope is the Teaching Stethoscope, which features two headsets, enabling the teacher and student to listen simultaneously.
Of course, the contrast between teaching stethoscopes and doctor stethoscopes is quite big. Since doctors and specialists must have more acoustic responsiveness and other features such as a reduction of ambient noise and tuneable technology. Therefore, advanced stethoscopes can be a little pricier than stethoscopes without those features.
Does this mean that lowest cost stethoscopes are obsolete? Certainly not, because most trainees and medical students do not have the budget to buy one of the more expensive stethoscopes during their studies. Of course, a stethoscope is needed to make their way through medical school, which is where the more affordable stethoscopes come in.
Even do we do not recommend the lowest cost stethoscopes for doctors and specialists, there is still a place in the medical world for those cheap stethoscopes. While the number of features may not match the more expensive models, it does provide trainees and medical students with some alternatives.
What Features Can Increase the Cost of a Stethoscope?
As mentioned briefly already, there can be some features that will increase the cost of your stethoscope. To demonstrate how features can make a difference, we would like to provide you with a comparison between mechanical stethoscopes and electronic stethoscopes.
Mechanical stethoscopes are usually more affordable than electronic stethoscopes, mainly because electronic stethoscopes have loads more features in their design. Good examples of such features include sound amplification, sound track recording, electronic noise reduction, remote listening, and more.
Some electronic stethoscopes work with external equipment; for example, the Littmann Electronic Stethoscope with TeleSteth System. While this may increase the price of that stethoscope, these extra features could prove useful for specialists working in hospitals.
We must mention that there are some mechanical stethoscopes with a series of advanced features that rival those of the electronic stethoscope. However, this will reflect in the price of the mechanical stethoscope too.
Of course, medical professionals cannot forget about brands either because some brands provide similar features for their stethoscopes, while their prices are quite different!
To ensure clinicians get the best stethoscope for their hard-earned money, we provide a variety of top brands; this includes Littmann, American Diagnostics, and Liberty. Each of the stethoscopes from these brands comes with a bunch of features and is available for an affordable price. So, whether you are a medical professional looking for a more advanced stethoscope, or a medical student who needs an affordable stethoscope for medical school, Mentone Educational will deliver what you need for a price that fits your budget!
How Much Does It Cost to Engrave a Stethoscope?
The cost for engraving your stethoscope is not as dependent on the brand you buy, since it comes down to the engraving service you obtain. The engraving method can also influence the price you pay, so make sure to find an engraving service that provides you with that sweet blend of quality and affordability.
Where Can I Get More Information on Stethoscope Price?
Do you need more information about the cost of stethoscopes on Mentone Educational? Or could you use some help finding an advanced stethoscope to match your budget and your requirements? Do not hesitate to contact the Mentone Educational team for some assistance. Clinicians can contact us via telephone, email, or live chat. Alternatively, more information on stethoscope cost can also be obtained from our Mentone Educational showroom.