Electronic
One problem with acoustic stethoscopes is that the sound level is extremely low. This can be a problem if you are working in a busy medical environment or in other areas where there are high levels of noise, and it can compromise your ability to make a correct diagnosis. Electronic stethoscopes utilise advanced technology to overcome these low sound levels by electronically amplifying body sounds.
More
Electronic stethoscopes require conversion of acoustic sound waves obtained through the chest piece into electronic signals which are then transmitted through uniquely designed circuitry and processed for optimal listening. The circuitry consists of components that allow the energy to be amplified and optimised for listening at various frequencies. The circuitry also allows the sound energy to be digitised, encoded and decoded, to have the ambient noise reduced or eliminated, and sent through speakers or headphones.
Electronic stethoscopes at Mentone Educational
The electronic stethoscopes at Mentone Educational will provide you with the means to hear various sounds more clearly, while at the same time ambient noise can be reduced by as much as 85%, without eliminating critical body sounds.
The 3M Littman Electronic Stethoscope
The main features of this electronic stethoscope are:
Record and save up to twelve 30-second patient sound tracks
Transmit sounds via Bluetooth technology (Bluetooth adaptor included – not compatible with Apple devices)
Listen remotely via 3M Littmann TeleSteth™ System (sold separately)
Eliminate 85% (on average) of ambient noise
Amplify sounds up to 24x
Two-year warranty
How long is the battery life of an electronic stethoscope?
A Littmann electronic stethoscope battery will last for approximately 60 hours of continuous use. Before the battery is depleted completely, you will hear a warning tone that the battery has only two more hours of continuous use. The life of the battery is being conserved if you are seeing the Littmann logo; this means that you are in standby mode. To enter active mode, you just need to tap on the diaphragm or push a button. To turn off the stethoscope, either do nothing (the stethoscope will power off after a period of time that is based on the POWER setting) or push the power button for two seconds.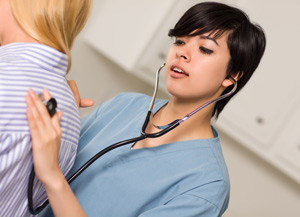 What is the Littman TeleSteth system and how does it work with the Littman electronic stethoscope?
The 3M Littmann TeleSteth™ System allows you to conduct remote auscultations anywhere you have access to a high-speed internet connection. The flexible, web-based architecture allows you to log onto the TeleSteth™ System site where you can listen to a patient at a remote site using real-time live streaming.
Benefits:
Anytime, anywhere collaboration: Share heart, lung and other body sounds with colleagues located across the globe. Sounds are transmitted via a secure internet connection using the TeleSteth™ System.
Remote evaluation: The revolutionary technology behind the TeleSteth™ System allows you to evaluate patient sounds remotely in real-time during an examination.
Easy access: The TeleSteth™ System is designed to be accessed from a user's PC through the internet.
Is an electronic stethoscope right for me?
Electronic stethoscopes have a number of advantages over traditional stethoscopes such as being able to amplify the sounds received through the stethoscopes head and the ability to observe those sounds through a visual display.
Some stethoscopes are capable of recording and replaying captured audio/video, which allows physicians and practitioners to show patients what's going on with their health, and makes it easier to maintain patient data that needs to be entered into medical records at a later time. These stethoscopes are great for individuals who work in specialized fields such as cardiology or those who have difficulty hearing through regular stethoscopes.
The ability to amplify and adjust listening frequencies makes electronic stethoscope an excellent tool when a medical professional needs quick and precise medical readings. Depending on the electronic stethoscope that is used the features and capabilities of the stethoscope can vary, however the most common features available on most electronic stethoscopes include sound amplification and the ability to adjust the listening frequency. Check out the buyer's guide here.
Some medical practitioners however still prefer to use acoustic stethoscopes rather than electronic ones. These are some of the disadvantages associated with the use of electronic stethoscopes:
Heavier & less mobile: Because electronic stethoscopes require more components and electronics, they are typically less mobile and also heavier, which can make them difficult to carry around throughout the day.
Requires batteries or an electronic source: Many electronic stethoscopes require a power source to work correctly and without electricity they will be completely non-functional devices.
Higher cost: Electronic stethoscopes can be extremely pricey, which makes them less than ideal for career fields that do not need the additional functionality of electronic stethoscopes.
More opportunities to be damaged: Electronic stethoscopes are electronic devices, which means they can be damaged more easily than non-electronic ones.
Electronic interference: Electronic stethoscopes may be susceptible to electronic interference by other devices.