Can You Gift a Stethoscope? Find Out at Mentone Educational!
Author: Nicole Adler Date Posted:9 March 2018


While stethoscopes might not be the first gift you consider, it is certainly a worthy choice for medical professionals. If you need a sentimental gift for a doctor, nurse, or a medical student who just graduated, you can certainly consider gifting a beautiful stethoscope.
Want to gift a stethoscope to a clinician? Find out everything you need to know below.
What Are the Top 5 Stethoscopes for Gifts?
Some stethoscopes make better gifts than others, so we have compiled a list with our personal top five. Check out our suggestions below to determine which is best for your recipient.
1. The 3M Littmann Cardiology IV Stethoscope
Our first recommendation is the 3M Littmann Cardiology IV Stethoscope, a classic choice for clinicians across Australia. The stethoscope provides unmatched acoustics with its dual lumen construction, soft-sealing ear tips, and other classic features!
2. The 3M Littmann Classic III Stethoscope
Another stethoscope that could make a wonderful gift is the 3M Littmann Classic III Stethoscope. Like you would expect from Littmann stethoscopes, the 3M Littmann Classic III comes with outstanding acoustics, but also next-generation tubing. With next-generation tubing, your stethoscope is more resistant against skin oils and alcohol, so this gift stethoscope is bound to last a long time. The 3M Littmann Classic III Stethoscope is also available in a variety of colours and finishes.
3. The Liberty Classic Tuneable Stethoscope
Would you like a different brand than Littmann? If so, you could still choose the Liberty Classic Tuneable Stethoscope. This stethoscope is the most popular stethoscope amongst nurses and doctors, so it will undoubtedly be a popular and appreciated gift.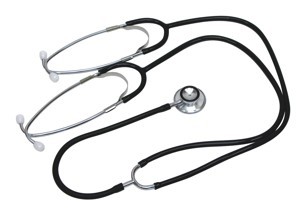 4. The Littmann Master Cardiology
Are you looking for a top-of-the-line stethoscope, but also a stethoscope that is suitable for specialists such as cardiologists and anaesthetists? If so, you could consider the 3M Littmann Master Cardiology Stethoscope.
There are many features that should convince you to choose the Littmann Master Cardiology; this includes a dual lumen design, tuneable technology, a special procedures adapter, soft-seal ear tips, next-generation tubing, various chestpiece finishes, and more! So, the top functionality provided by the Littmann Master Cardiology will undoubtedly prove useful for the medical professional you have in mind.
While there are many different colours and finishes available, we suggest obtaining the 3M Littmann Master Cardiology Stethoscope Black Edition. Not only does this stethoscope look incredibly stylish, the dark colour makes it less likely that stains get stuck on the material after a long period of use.
5. The Littmann Select
Are you on a bit of a budget, but still want a quality gift stethoscope? For these customers, we recommend the Littmann Select Stethoscope, an electronic version equipped with Littman's advanced technology. The Littmann Select also comes with digital electronic filtering, ensuring any ambient noise is reduced while the stethoscope is being used.
Can You Get a Gift Stethoscope Engraved?
Stethoscopes can be engraved. After you have made your purchase, simply request engraving from your favourite service. The engraving can be done on the stethoscope itself, but also on some of the packaging.
How Can You Personalise Your Gift Stethoscope?
As mentioned earlier, the best way to personalise a gift stethoscope is by adding some engraving. However, there are other ways to add a little personalisation to a bought stethoscope.
Customers who are on a budget can obtain a stethoscope and simply use a gift tag with a sentimental message to make the stethoscope extra special. You can also add a gift card, or simply a sweet letter. There are many ways to approach the personalisation of a gift stethoscope.
What Chestpiece Finishes Can You Choose from a Gift Stethoscope?
At Mentone Educational, clinicians can find stethoscopes in a variety of finishes; this may include black, brass, silver, and more. So, you will have no problems finding a gift stethoscope with a finish the recipient of the stethoscope will love.
What Tube Colours Can You Choose for a Gift Stethoscope?
Gift stethoscopes at Mentone Educational are also available in various colours. Naturally, colours are subject to the range of stethoscopes offered by the specific brand. For example, if you are choosing Littmann, then you will find one model stethoscope in various colours designed by Littmann.
To determine the right stethoscope colour for your recipient, simply check out our catalogue and the various models of stethoscopes available. We are sure you will find something suitable!
Do you have problems locating a suitable gift stethoscope for your recipient? Or would you like some assistance from our expert team, who can explain more about the various stethoscopes available in our extensive collection? Do not hesitate to get in touch with out team via telephone, email, or chat. You can also drop by at our showroom, where one of our sales representatives can provide you with a demonstration.