Buyers Guide for Stethoscopes for Interns
Author: Nicole Adler Date Posted:8 January 2018


Purchasing your first stethoscope can be daunting. The range of stethoscopes is broader than ever, with increasing levels of functionality to match. There is no substitute for quality, with many good stethoscopes available, and interns require medical equipment that lasts for the duration of study and beyond. Training using a quality stethoscope is better than compromise resulting in muddled patient assessments that lead to a lack of confidence, so here are a few ideas to get you started on your search for a stethoscope that suits your needs as an intern.
Littmann Stethoscopes
The Littmann name has been synonymous with stethoscopes since the 1960s, when Dr David Littman created a superior, lightweight device while working at Harvard University. Stethoscope training requires acute sound auscultation skills for accurate diagnosis, so choosing a product favoured by medical professionals is a sensible move. Littmann stethoscopes remain the top choice for use by students, interns and clinicians, providing superior acoustic qualities deserving of a professional approach to medicine.
Littmann stethoscope options suitable for interns include the 3M Littmann Classic III Stethoscope and the 3M Littmann Cardiology IV Stethoscope, both renowned for quality and durability. All health professionals are deserving of devices that match their needs and expectations, and making wrong choices is all too easy, so sticking with a known brand such as Littmann is the best way to avoid mistakes at the outset of your internship. Lower-end stethoscopes certainly fulfil many necessary functions, but interns are often uncertain of their next patient experience, so carrying the appropriate equipment enables confidence and certainty in your chosen profession.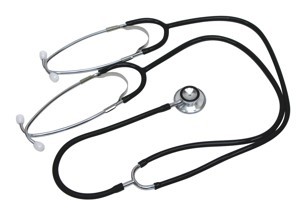 Is the 3M Littmann Master Cardiology Stethoscope a Good Option?
Littmann stethoscopes are a good choice for all students, interns and practitioners, although they can be cost-prohibitive for some interns. Littmann Master Cardiology stethoscopes have the best acoustic response in the Littmann mechanical stethoscope range. This stethoscope features revolutionary tuneable diaphragm technology that allows clinicians to listen to a greater range of sounds simply by adjusting pressure on the chestpiece. This time saving feature allows interns to focus on the patient without having to remove or replace the chestpiece. Other 3M Littmann Master Cardiology Stethoscope advantages include:
Next generation tubing made without latex or phthalate plasticisers
Double lumen tubing to avoid unwanted sound interference
Durable stainless steel chestpiece
Lightweight, easily folded and portable design
Soft sealing eartips and ergonomic headset design
Suitable for adult, infant and paediatric patients
Choose a Quality Stethoscope as an Intern
Your intern experience can lead to unexpected avenues in your medical career. Establishing yourself as a capable all-rounder is easier when using a versatile, quality stethoscope. The 3M Littmann Master Cardiology Stethoscope, available in a wide range of colours, is ideal for an introduction to occupations that include cardiologist, anaesthesiologist, emergency physician, general practitioner, nurse, paediatrician, respiratory specialist and a whole lot more.
Medical study followed by internship takes years of dedication, and the 3M Littmann Master Cardiology Stethoscope is with you all the way, guaranteed by a seven-year warranty. The initial expense is money well spent in the long-term, where accurate assessments are a sign of your personal medical expertise, and something to be proud of.
Best Stethoscopes for Medical Students
Littmann aren't the only highly-regarded stethoscope name on the market. Mentone Educational also supports other major brands such as American Diagnostic Corporation and Liberty Healthcare. There are natural similarities between all high-quality stethoscope brands, and choosing the device that perfectly suits your needs requires personal consideration. Fortunately, Mentone Educational has Australia's broadest stethoscope range for all purposes, and with a little fine tuning, you are sure to find a stethoscope model that is exactly right for you.