Liberty Health
Liberty Health Stethoscopes is owned and operated by the Paragon Care Group Pty Ltd, and proudly represents quality and performance for the discerning health care professional and student alike. Liberty Health has a large range of stethoscopes covering all disciplines and usages demanded by the busy healthcare and allied sectors, such as paediatric and neonate stethoscopes, doctors dual head stethoscopes and cardiology stethoscopes.
More
In addition to stethoscopes, Liberty Health also offers a much wider range of medical products including items such as diagnostics, dissecting kits, doctors bags, instruments, laryngoscopes and many more products and accessories used by medical professionals. At Mentone Educational, you can find Liberty Health stethoscopes including two of the most popular models:
The Liberty Classic Tunable stethoscope
Features of the Classic Tunable stethoscope are:
Tunable diaphragm
Innovative design
Optimum acoustic performance
Finest craft finish
Soft ear tips
Chest piece with non-chill ring
Latex Free
5-year warranty
Available in 5 colours
Free name tag with each stethoscope
Free spare ear tips and diaphragm
The Liberty Cardiology Ultrasharp stethoscope
One of the latest products in the Liberty Health range, this stethoscope is designed with a specially crafted zinc alloy chestpiece to focus sound collecting and conducting, while utilisation of electroplating technology makes the surface smoother to the touch and effectively resists tarnishing. The length of spring is 60mm in its natural state and is comfortable to wear. The angle of the ear tube is set at 75°. The audio-conductivity is particularly good. The extra strong A-tube made of PVC has separate sound conducting pathways for the left and right ears.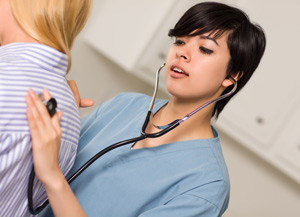 Features of the Cardiology Ultrasharp stethoscope are:
Professional cardiology stethoscope
Ergonomic and unique design
Two-in-one tube system for improved sound conduction
Comfortable and flexible binaural
Silicone ear tips make the auscultation clearer
12-month warranty
What are the benefits of having a tunable stethoscope?
Traditional stethoscopes have for many years consisted of a combination chest piece which features a bell and a diaphragm. The bell is meant to be used for listening to low frequency sounds, while the diaphragm side should be used for high-frequency sounds. Modern technology has enabled the manufacturers to develop a stethoscope where the new design enables the user to perform a pressure sensitive diagnosis, allowing clearer diagnosis of both high and low frequency sounds without having to change sides, as with standard stethoscopes.
Why are some stethoscopes available in different colours?
Modern stethoscopes, such as the Classic Tunable stethoscope from Liberty health, can be purchased in a range of different colours, which offers the following benefits:
Less easy to pick up a colleague's stethoscope by mistake
Can be matched to your uniform or scrubs
Easier to spot your stethoscope amongst other instruments
Looks less clinical and intimidating which may be a benefit in paediatrics or with patients who are unused to being in a hospital setting.
As well as opting for a different colour, you can further identify your stethoscope by having your name engraved on it, utilising a name tag or fixing a stethoscope charm to it.
Liberty Health warranty
The Liberty® Health Seal of Quality ensures that the product you purchase is free from manufacturing or material faults and has a performance that you would expect for use by a health care professional. If you find any product carrying this symbol to be defective or unsuitable, please return it to the place of purchase for replacement or refund. All Liberty products are unconditionally guaranteed against manufacturing defects. 50 years of experience by our manufacturer makes Liberty a quality product. L.R. Instruments Pty Ltd warrants that the product supplied is free from faults or defects in materials or workmanship for One (1) year, Twelve (12) months, from the date of original purchase. Find buyer's guide here.