Buyer's Guide for Liberty Health Stethoscopes
Author: Nicole Adler Date Posted:17 January 2018


Liberty Health is one of the brands of stethoscopes offered at Mentone Educational; this alongside other big names such as 3M Littmann and American Diagnostics. Of course, Liberty Health stethoscopes come in various models and have their own benefits. If you wish to learn more about our Liberty Health stethoscopes, please read the information below.
Cardiology Stethoscopes
One type of stethoscope provided by Liberty Health is the cardiology stethoscope. The cardiology stethoscope is designed for optimal acoustics, which is required for any medical professional who works in a cardiology unit.
Of course, cardiology stethoscopes are not just known for outstanding acoustics, because this type of stethoscope is also a good option where versatility is concerned. Therefore, cardiology stethoscopes are not only meant for cardiologists and medical professionals working in a cardiology unit.
One of the Liberty Health cardiology stethoscopes available at Mentone Educational is the Liberty Cardiology Ultrasharp Stethoscope. The Liberty Cardiology Ultrasharp Stethoscope has a sleek and modern design, but also countless features that could prove extremely functional for medical professionals.
When you choose the Liberty Cardiology Ultrasharp Stethoscope, you will receive a stethoscope with a comfortable and flexible binaural. It also includes a two-in-one tube system, enabling better sound conduction. Therefore, this stethoscope could not only be beneficial for the clinician using it, but also for the diagnosis of patients.
Classic Stethoscopes
Even though the cardiology stethoscopes are known for the best acoustics, the classic stethoscopes from the Liberty Health range are extremely functional too. These classic stethoscopes are excellent options for doctor surgeries, but can also be used in hospital environments.
One of the classic stethoscopes from the Liberty Health brand is the Liberty Classic Tuneable Stethoscope in black, which is also the most popular stethoscope amongst Australian doctors and nurses. The stethoscope is characterised by a pressure-sensitive diaphragm, but also an impressive binaural system.
Clinicians who choose the Liberty Classic Tuneable Stethoscope may expect an outstanding binaural system that includes a tuneable diaphragm, optimal acoustics, a flexible inner spring for added comfort, and much more.
The chestpiece of the Liberty Classic Tuneable Stethoscope is designed with a non-chill ring; this non-chill ring is quite important, because it could make a physical examination more comfortable for the patient.
Considering the reliable features of the Liberty Classic Tuneable Stethoscope, as well as the patient-friendly features, it is no surprise many doctors and nurses prefer to use a Liberty Health stethoscope for their daily practice.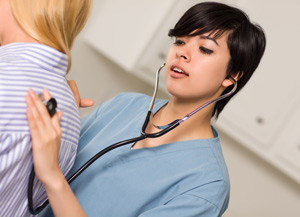 Standard Stethoscopes
Liberty Health does provide a range of standard stethoscopes, which fall under their classic range. So, if you choose such a standard stethoscope from the Liberty Health brand, you can still count on those remarkable features the Liberty Health brand is known for.
The Liberty Health stethoscopes have been around for many years and that experience certainly shows in the stethoscopes created by the brand. Liberty Health standard stethoscopes are known to be used by all clinicians, working in different fields of medicine; this because of the outstanding functionality these Liberty Health standard stethoscopes provide.
Of course, even with their range of standard stethoscopes, certain types of stethoscopes are more suitable for your profession than others. Liberty Health provides dedicated stethoscopes for paediatric and neonatal patients, but also for adult patients. So, be sure to check out the specifications of each model before obtaining yours.
First Class Products
The Liberty Health brand does not limit itself to the manufacturing and sale of stethoscopes, since this company also creates other medical equipment for clinicians.
In addition to their solid range of stethoscopes, Liberty Health also create nurse's kits, safety glasses, identification tags, utility pouches, reflex hammers, thermometers, and other equipment nurses or doctors may need on the job.
To view the full range of first class products provided by Liberty Health, please head over to the "brands" section on the main menu. Under this "brands" section, clinicians can find all the brands that can be found on Mentone Educational; this includes the Liberty Health brand, but also other renowned companies such as American Educational Products, Ben Nye, 3B Scientific, and many others.
Clinicians do not necessarily have to shop online to get familiar with our range of Liberty Health products, since medical professionals also have the option to visit our showroom. During your visit, you can request the assistance of our representatives, who can provide you with demonstrations as well as more information about any products in our showroom.
Do you have any additional questions about Liberty Health stethoscopes or products, but do not have the time to drop by at our showroom? Feel free to contact the Mentone Educational team through one of the contact methods on the website. Medical professionals and teachers can contact us for more information via telephone, but also via chat and email.