Lightweight Stethoscopes
Stethoscopes are used for a variety of medical applications in a wide range of healthcare environments. Often, stethoscopes used by nurses, GPs, interns and other medical practitioners have to be on hand permanently, meaning that they are carried around either around the neck or in a pocket of a uniform for long periods of time. For this reason, many people may prefer to use a lightweight stethoscope. Heavier stethoscopes impact differently on the ears of the wearer, which some people find uncomfortable. Lightweight stethoscopes can weigh as little as just over 100 grams, whereas some stethoscopes can weigh nearly three times as much, which can make a real difference during a long shift.
More
Depending on how often you carry your stethoscope on you, and how often you use it, the weight of the stethoscope may become an issue if the stethoscope is heavy and/or uncomfortable to use. The materials used in the making of the stethoscope can make a difference on the sound quality, durability, weight and price of the stethoscope, so these are things you should consider carefully when choosing the best stethoscope for your own particular situation.
Lightweight stethoscopes at Mentone Educational
Here at Mentone Educational we carry a large range of lightweight stethoscopes made by leading manufacturers including 3M Littman, Liberty and AlpK2, in a variety of colours, finishes and with various features. Also included in this section is a special teaching stethoscope, which is designed to be used by two people at the same time and will be ideal in many training environments.
Tips for using your lightweight stethoscope to obtain the best results:
There are some simple procedures you can follow to ensure that you get the optimum performance and use from your new stethoscope, such as:
Headset Alignment - Before placing the eartips in your ears, hold the headset in front of you with the ear tubes pointing away from you. Once the eartips are in your ears, they should point forward. If, after inserting the eartips properly, the fit still is not comfortable or the acoustic performance is not up to standard, you can grip both ear tubes and adjust the headset to a narrower or wider fit.
Fit of Eartips - For optimal acoustic performance, it's important to make sure that the size of the eartips is compatible with your ears. Most stethoscopes come with both large and small eartips, and replacement eartips can be purchased.
Possible Obstructions - If you usually carry your stethoscope in a pocket or have not cleaned it for a while, dirt or lint can get into the stethoscope and obstruct the sound pathway. To prevent debris from accumulating, make sure you routinely check and clean your stethoscope.
Seal - Stethoscopes rely on an airtight seal to transmit body sounds from the patient to the practitioner's ears. Loose parts in the chestpiece, loose or cracked tubing, and general wear and tear can prevent an airtight seal.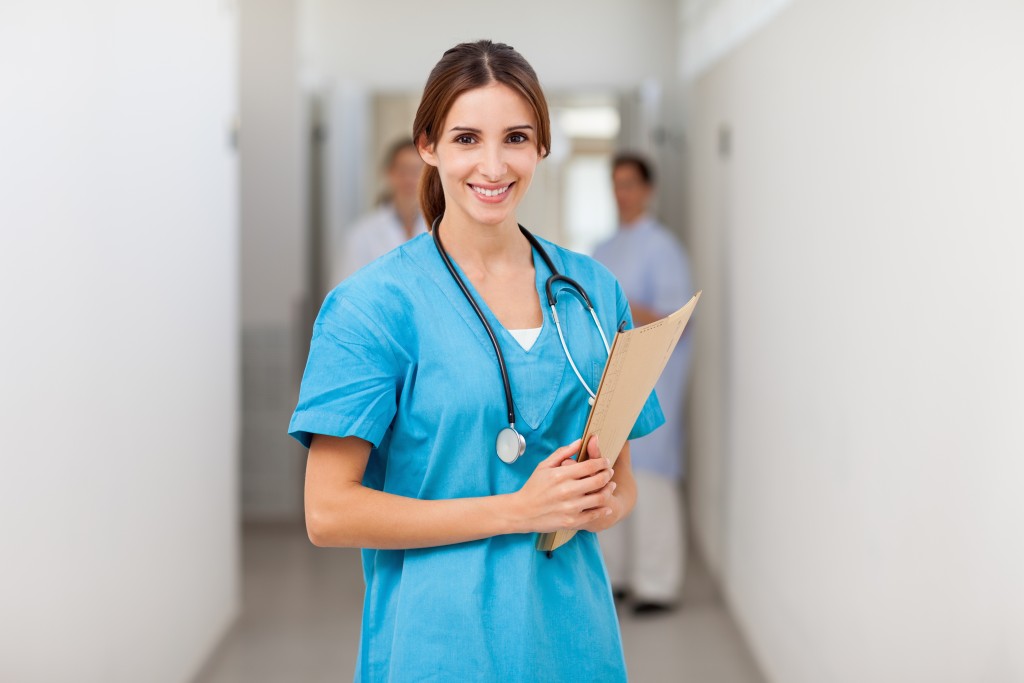 Is a lightweight stethoscope suitable for me?
Lightweight stethoscopes come in a variety of sizes, models and materials, which means that there are good and bad lightweight stethoscopes. Quality light materials, used in the top of the range stethoscopes, may make these models more expensive than slightly heavier models. If the price of your lightweight stethoscope seems really low, you probably have to expect that the quality of sound may not be optimal. However, lightweight stethoscopes are generally perfectly fine for training, nursing, blood pressure readings and other general diagnoses. Only when you get into the very specialised areas will you need to invest in a stethoscope with higher sound qualities. Keep in mind that the diagnosis is just as much down to your skill and training in auscultation as it is to the quality of the stethoscope, and buying a top of the range stethoscope is not going to make you a better medic overnight.
How does the lightweight teaching stethoscope work?
This Teaching Stethoscope, manufactured by Alp K2, is specifically designed for multi-function teaching applications, making it perfect for demonstration and student use.
Features of the teaching stethoscope are:
Dual Head Stethoscope - The dual head design offers the necessary flexibility to use this scope in clinical and educational conditions.
Includes two binaurals, two pieces of Y-tubing, a Y-connector and an extension tube
Adjustable chrome-plated external spring binaural
Allows two people to listen simultaneously
Of course, here at Mentone Educational we do not only sell lightweight stethoscopes. To check out our extensive range, including nurses stethoscopes, cardiology stethoscopes, electronic stethoscopes and more, click here for the full range.
Can I purchase a teaching stethoscope at Mentone Educational?
Yes, you can. Ideal for use when training new members of your team, for an accurate second opinion or as a practical educational tool, the dual headsets of a teaching stethoscope allow instructors and students to simultaneously auscultate patients with high acoustic sensitivity. Find buyer's guide here.