Buyers Guide for Lightweight Stethoscope
Author: Nicole Adler Date Posted:17 January 2018


Some clinicians prefer lightweight stethoscopes; this is especially the case for medical professionals who wear their stethoscope around the neck all day. There are various lightweight stethoscopes available for medical professionals, the best of which we have listed below. So, if you are looking for top functionality in your lightweight stethoscope, be sure to check out the excellent options available at Mentone Educational below.
Littmann Lightweight II Stethoscope
One option for medical professionals is the Littmann Lightweight II Stethoscope. Weighing as little as 118 grams, the Littmann Lightweight II Stethoscope is perfect for clinicians working in a hospital environment, who wear their stethoscope around the neck.
The Littmann Lightweight II Stethoscope is characterised by a double-sided chestpiece. One side of the chestpiece has a tuneable diaphragm, while the other side contains an open bell; this provides clinicians with an easy switch during a physical examination.
When you take a closer look at the chestpiece of the Littmann Lightweight II Stethoscope, you will also notice that this chestpiece has a teardrop shape; this makes it easier to position the chestpiece underneath blood pressure cuffs or around bandages.
3M Littmann Lightweight Stethoscope
The 3M Littmann Lightweight Stethoscope is also a good choice for clinicians who tend to wear their stethoscope around the neck. Even though this stethoscope only has a one-sided chestpiece, it still comes with a tuneable diaphragm, a function most clinicians cannot go without anymore.
A tuneable diaphragm can be found on the chestpiece and is used by clinician to distinguish between low and high frequency sounds easily. To make the distinction, the clinician only has to adjust the pressure on the chestpiece.
The headset of a 3M Littmann Lightweight Stethoscope also comes with some features that clinicians will find interesting. The headset can be adjusted to fit each clinician personally; this ensures maximum comfort during the prolonged use of this headset. The 3M Littmann Lightweight Stethoscope also has angled ear tubes, which align with the ears perfectly.
At the end of the ear tips of this stethoscope, the 3M Littmann Lightweight Stethoscope has soft-sealing ear tips. As the name suggests, these ear tips provide an acoustic seal in the ear, providing better sound conduction and reducing any ambient noise in the environment of the professional. So, choosing this lightweight stethoscope also guarantees more convenience during physical examinations.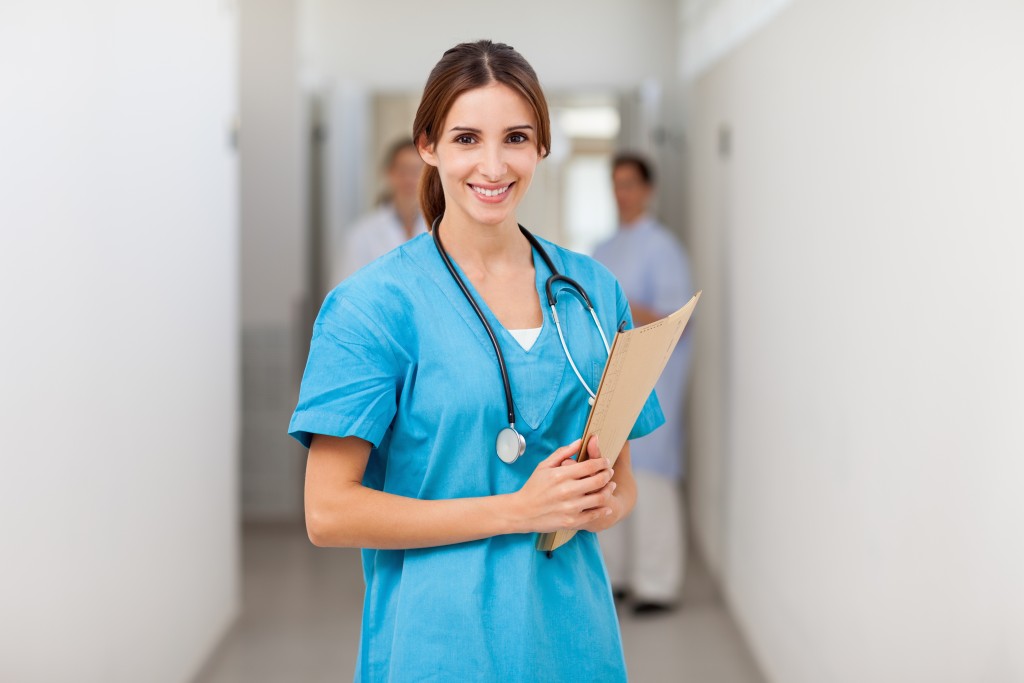 Best Lightweight Stethoscope
When it comes to choosing the best lightweight stethoscope for your needs, there are several brands you must look at. Of course, the suitability of a lightweight stethoscope does depend on what it will be used for. For example, are you looking for a stethoscope for cardiology, paediatrics, general practice, or other? Based on the answer, you can choose a lightweight stethoscope that matches your profession best.
One of the brands you should certainly consider for lightweight stethoscopes is Littmann. The Littmann brand is known to create some of the best stethoscopes in the world; this is not limited to lightweight stethoscopes, but also specialty stethoscopes such as paediatrics and cardiology.
Littmann procedure more medical equipment aside from stethoscopes; this includes telemedicine and software. These products are developed to enhance the functionality of stethoscopes and could enable functions such as consulting another expert on a distance, examination reviews, and more.
Of course, there are other lightweight stethoscopes available at Mentone Educational, so your choices are not limited to stethoscopes from Littmann. At Mentone Educational, clinicians can also find other stethoscopes such as Liberty Health and American Diagnostics. To learn more about these brands, please check the information pages available at Mentone Educational.
Littmann Stethoscope Lightweight Price
The price of lightweight stethoscopes may vary considerably, since prices vary according to brand, features, and similar things that could affect the cost of your stethoscope.
At Mentone Educational, clinicians can get a lightweight stethoscope for as little as $24.20. The maximum price for a lightweight stethoscope at Mentone Educational is $86.90 at the time of this article.
Please note that your choice should not be limited to our range of lightweight stethoscopes if you are looking for a lighter stethoscope that is comfortable around the neck. Most stethoscopes created today are relatively light, which means you could consider some of the other stethoscopes available at Mentone Educational.
To determine if a stethoscope is comfortable, clinicians can also drop by at the Mentone Educational showroom. During your visit, you can try the stethoscopes around your neck to determine if they are comfortable enough for an entire working day.
Visiting the showroom enables clinicians to get familiar with some of the other medical equipment available at Mentone Educational. Some of this medical equipment could contribute to your practice and hospital, so be sure to ask our representatives for more information if you spot something that is of interest to you.