Buyer's Guide for Littmann Stethoscopes
Author: Nicole Adler Date Posted:17 January 2018


Clinicians who are considering buying a Littmann stethoscope, should certainly read our guide below. Littmann stethoscopes are considered amongst the most popular stethoscopes in the world and come with a variety of special features. Curious what you could expect from your Littmann stethoscope, or which Littmann stethoscope is the best option for you? Read our information below to find out!
Which Littmann Stethoscope Should I Buy?
Since there are various Littmann stethoscopes available today, it may take you some time to decide on a model. However, there are ways to narrow down your search a little quicker, more specifically by placing your intended stethoscope in a certain category.
Stethoscopes can usually be divided into various categories; this includes lightweight, classic, electronic, and cardiology. Each of these categories stands for something, more specifically the classic stethoscope for versatility, electronic for convenience, cardiology for optimal acoustics, and lightweight for light stethoscopes. Based on these four categories, you can find the stethoscope to suit you a little easier.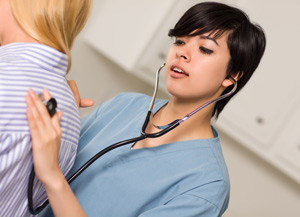 Where Can I Buy a Littmann Stethoscope?
For Littmann stethoscopes, you can undoubtedly count on Mentone Educational. Mentone Educational is Australia's leading supplier of medical equipment; this includes stethoscopes as well as simulation equipment, physiology equipment, charts, posters, health educational equipment, anatomy models, and more.
To ensure medical professionals only get the best for their doctor surgeries and hospitals, Mentone Educational only provides the best brands from around the world. This does not only apply to our range of stethoscopes, but also the other medical equipment available at the Mentone Educational showroom and website.
Customers who are interested in buying a Littmann stethoscope can do so on the website, but also by visiting the Mentone Educational showroom. During your visit, you can check the quality of our Littmann range of stethoscopes in person, but also discuss the available options with our expert team.
Our team of representatives is trained to provide accurate information about our products to clinicians, medical professionals, and teachers. Our team can provide you with demonstrations, but also with product recommendations based on your requirements. So, if you believe you could use some assistance to pick out the perfect stethoscope for your practice, clinic, or hospital, our team will be more than happy to assist you during your visit in our showroom.
Where to Buy a Littmann Cardiology III Stethoscope?
Mentone Educational provides an entire catalogue with Littmann stethoscopes; this includes the Littmann Cardiology III stethoscope.
The Littmann Cardiology III Stethoscope is specifically designed for medical professionals who work in cardiology units; this includes cardiologists, but also nurses and trainee doctors.
With a Littmann Cardiology III Stethoscope, clinicians can count on the 3M Tuneable Technology. 3M Tuneable Technology enables you to easily switch between high and low frequencies during physical examinations, simply by adjusting the pressure on the headpiece. Naturally, this could save clinicians some valuable time when performing their job.
The Littmann Cardiology II Stethoscope also comes with a double-sided chestpiece, which is large on one side and small on the other. The large side of the chestpiece is used for adult examinations, while the smaller side is used for paediatrics.
Clinicians can also count on durability when they choose a Littmann Cardiology II Stethoscope. The tubing of the stethoscope is made from a latex-free material and is said to reliably flex at least a million times. Therefore, clinicians will find that the Littmann Cardiology II Stethoscope is one of the most reliable choices where durability is concerned.
Finally, the Littmann Cardiology II Stethoscope also comes with special ear tips. These ear tips have a special acoustic seal, ensuring optimal sound transmission as well as ambient noise reduction. So, even clinicians in a busy hospital environment will enjoy the functionality of this stethoscope.
Littmann Stethoscopes in Australia
Littmann stethoscopes are undoubtedly counted amongst the most popular stethoscopes in the country; this is no surprise, because Littmann stethoscopes are known for their durability as well as outstanding functionality.
The 3M Littmann brand mainly focusses on three different types of stethoscopes for Australian clinicians; this includes cardiology stethoscopes, classic stethoscopes, and electronic stethoscopes.
To ensure only the best stethoscopes are sold to clinicians, Littmann applies its own internal testing processes to ensure Littmann stethoscopes are the best they can be. During these testing processes, Littmann evaluates the stethoscope on sound level, weight, but also manufacturing quality.
Clinicians can also recognise a genuine Littmann stethoscope by its patented design. Littmann stethoscopes will provide a tuneable diaphragm, adjustable headset, precision chestpieces, next-generation tubing, and a light weight. So, clinicians can always count on these basic features when buying any Littmann stethoscope.
Are you convinced you want to obtain a Littmann stethoscope, but could you use some help deciding on a specific model? Contact our team today via telephone, email, or chat for some instant assistance.