Buyers Guide for Paediatric Stethoscopes
Author: Nicole Adler Date Posted:15 November 2017


Although all stethoscopes perform similar sound auscultation functions, there are various designs for different body types. Adult, infant and paediatric stethoscope differences are most notable in the size of the diaphragm and bell, with paediatric stethoscopes requiring a smaller chestpiece for assessing babies and small children, while infant stethoscopes are suitable for neonatal assessments.
Accurate stethoscope use involves placing the chestpiece on a precise area of the body, and using an adult stethoscope on a small child may lead to confused assessment sounds and misdiagnosis. Using appropriate medical equipment is essential for doctors, nurses and students who want to make the right choices for best possible patient outcomes. Paediatric stethoscopes can have the additional advantage of a colourful, toy-like appearance that will subdue restless or frightened children during assessments.
What is the best paediatric stethoscope?
While using a child-friendly stethoscope can make a considerable difference for young patients, it's important to choose one with superior acoustic performance. The sounds and signals a young body emits can be difficult to detect, so an appropriate diaphragm, advanced tubing and a comfortable, seamless fit are all beneficial. When purchasing a paediatric stethoscope, design factors and auscultation properties need to be taken into consideration, along with specific requirements related to medical practice or student needs.
An investigation of medical websites and stethoscope reviews reveals personalised choices for lots of different reasons, although some models are frequently recommended, such as the 3M Littmann Classic II Paediatric Stethoscope. The care and attention familiar with Littmann adult stethoscopes is also evident in paediatric models, including high quality membrane, dual-sided chestpiece, floating diaphragm and ergonomic headset for comfortable wear even during extended use. Mentone Educational are Australia's foremost supplier of medical equipment for doctors and students, with the 3M Littmann Classic II paediatric Stethoscope an enduring favourite for reasons that include:
Double-sided chestpiece with 3.3cm diaphragm for paediatric patients
Highly regarded acoustic sensitivity with floating diaphragm and open bell
Dependable and durable hand-made manufacture for reliable long-term use
Easily adjusted headset tension for ergonomic comfort and convenience
Resilient 'Next Generation' tubing that always retains shape and flexibility
Constructed without rubber latex or phthalate plasticisers that affect sensitive skin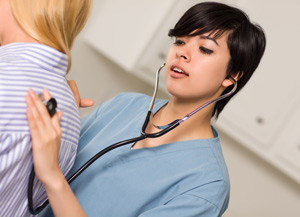 Can you use a paediatric stethoscope on adults?
Stethoscopes are incredibly versatile instruments for performing a variety of assessment procedures. However, choosing the appropriate device for specific medical use is important. For example, a new-born baby's heart is hardly any bigger than an adult stethoscope chestpiece, making precise paediatric assessment with an adult-size diaphragm or bell near impossible in some circumstances. Fortunately, modern stethoscope design incorporates double-sided chestpieces for use on both adults and children; a boon for those on a budget.
What is the Paediatric stethoscope price?
As stethoscope manufacturers compete for their market share, prices are adjusted accordingly. However, it's important to see the big picture for long-term satisfaction, and a cheaper stethoscope that performs well in some assessment procedures may fall well short in other assessments. Quality stethoscopes are built with sturdy components that can take knocks and drops without compromising capability, and are worth the additional investment, particularly for medical professionals, nurses and students who demand consistent performance standards. The 3M Littmann Classic II Stethoscope, available at Mentone Educational for $148.50 including GST is a worthy investment in long-term medical success.
Students inclined to a career in paediatrics and doctors already established in a paediatric medical career are compassionate individuals who strive to provide the best possible assessment outcomes for their young patients. 3M Littmann and Mentone Educational support the ideal with the best stethoscope range for use by every doctor, allied healthcare professional, nurse or student who wants to make a real difference in the lives of adults, children and infants entrusted to their care.