Buyer's Guide for Stethoscopes for Medical Assistants
Author: Nicole Adler Date Posted:19 January 2018


At Mentone Educational, medical professionals can find countless stethoscopes suitable for numerous medical fields. One of these fields is the medical assistant, who might require a good stethoscope for daily practice. Curious what the best stethoscope is for medical assistants? Find out by reading the information provided by Mentone Educational below!
Best Stethoscope
To get the best stethoscope as a medical assistant, you must look for specific features. One of the most important features for medical assistants is a stethoscope with a light weight, since many medical assistants wear the stethoscope around the neck for multiple hours.
In addition to a light weight, versatility will be another property you require for a medical assistant's stethoscope. While specialised medical professionals will deal with specific departments, the medical assistant can work in various fields of medicine. Therefore, a stethoscope that could provide an easy switch could prove beneficial; for example, a stethoscope suitable for both adults and paediatric patients.
Of course, there is one final quality the best medical assistant's stethoscope must meet and that is durability. Fortunately, most medical stethoscopes are made from sturdy stuff these days. Still, it does not mean that every stethoscope provides the durability you are looking for.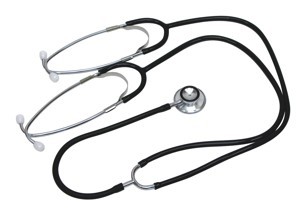 Littmann Stethoscope
One brand that should undoubtedly be considered by medical assistants is Littmann. The Littmann brand stands for quality, durability, and versatility, so a stethoscope from the Littmann company is bound to meet the strict requirements of medical assistants.
Most Littmann stethoscopes come with a variety of features that could make daily use more convenient and efficient. One of these features is next-generation tubing; this is the material used to create the tubing of Littmann stethoscopes. Next-generation tubing is free of latex, but also more resistant against common compounds that could damage the tubing; this includes skin oils (which often comes from patients or the medical assistant) and alcohol.
There are countless Littmann stethoscopes available at Mentone Educational, so medical assistants must evaluate the existing options to determine which stethoscope matches their requirements best. Of course, medical assistants can always contact the Mentone Educational team for some assistance regarding this.
In addition to Littmann stethoscopes, there are other stethoscopes at Mentone Educational that might meet the requirements of medical assistants. Additional brands that could be considered by medical assistants include Liberty Health and the American Diagnostics Corporation.
Stethoscopes Delivery
At Mentone Educational, medical assistants can order their stethoscopes online; this means we deliver your stethoscope at your doorstep. Of course, the delivery of stethoscopes requires knowledge, since this medical equipment must arrive in pristine condition.
Mentone Educational provides special packaging for each stethoscope, so that this medical equipment does not get damaged during transit. However, if you should encounter a problem with the delivery of your stethoscope, please contact the Mentone Educational team immediately. Even though problems with deliveries are extremely rare, customer satisfaction and patient safety are important for the team at Mentone Educational, so do not hesitate to get in touch when you encounter a problem.
Medical assistants who would rather pick up their stethoscope in person can do so, because Mentone Educational has its own showroom. You can order your stethoscope over the telephone, and make the pickup later for extra convenience. Of course, you can also drop by at our showroom, test the stethoscope you are interested in, and make the purchase on the spot too.
How to Read the Results?
Using a new stethoscope can often be confusing, especially if you have been working with a specific model for several years. Still, upgrading to a new stethoscope could make your job as a medical assistant a little easier and more convenient, so the learning curve is certainly worth it.
Even though most new stethoscopes are not that difficult to work with, there are some models that may require some additional instruction. Each of the stethoscopes available at Mentone Educational comes with its own instructions, which can be read by the medical assistant before operation. Medical assistants can also refer to our product description pages for more information about the stethoscope and its features.
Sometimes, medical assistants prefer to get a demonstration of a stethoscope before they obtain it. Demonstrations are also an option at Mentone Educational, since medical assistants can visit our showroom to get familiar with our products. Our team of representatives in the showroom will provide you with a demonstration of the stethoscope when requested, but could also tell you more about the features of other stethoscopes suitable for your profession.
Have you bought a stethoscope from Mentone Educational and have questions about its operation? For all questions regarding our stethoscopes or other medical equipment for medical assistants, please refer to the website and use one of the many contact methods to get in touch with our team of experts.