Buyer's Guide for Stethoscopes for a Medical Student
Author: Nicole Adler Date Posted:19 January 2018


Medical students usually do not need the most advanced stethoscope, since the basics usually cover their training perfectly. Since features are less important for medical students, the choice is usually determined by the look of the stethoscope. Of course, these stethoscopes will have limitations for general practice. Therefore, if you want to make sure your stethoscope can be used for several years, be sure to invest in something a little more functional.
Curious what the best stethoscopes are for medical students? Read our useful guide below to determine which stethoscope could benefit you during training.
What Is the Best Stethoscope for Medical Students?
One of the recommended stethoscopes for medical students is the Platinum Clinician Adscope 615 Stethoscope. Created by the American Diagnostics Corporation, this stethoscope provides optimal functionality for medical students as well as doctors, nurses, and certain medical specialists.
The Platinum Clinician Stethoscope comes with AFD technology, which gives medical students the response of both a bell and diaphragm. It also contains a chestpiece made from plated zinc alloy, giving it a beautiful satin-like finish.
What Is the Best Littmann Stethoscope for Medical Students?
There are many Littmann stethoscopes that provide excellent functionality for medical students and trained medical professionals. However, the stethoscope designed for medical students specifically is the 3M Littmann Select.
The 3M Littmann Select comes with a single-sided chestpiece; this chestpiece is designed for improved grip and manoeuvring. Of course, this proves useful for medical students who are just getting used to their stethoscope and using it on patients.
A Littmann Select Stethoscope also contains a tuneable diaphragm, a feature common amongst Littmann stethoscopes. The tuneable diaphragm does make listening easier, since a simple adjustment of pressure enables medical students to distinguish between low and high frequency sounds.
The Littmann Select Stethoscope also has the characteristic Littmann soft-sealing ear tips. These ear tips provide the medical student with more comfort while using the stethoscope, but also create an acoustic seal for better sound transmission.
Finally, the Littmann Select Stethoscope is guaranteed to fit every medical student, since the headset can be adjusted for an individual fit. The ear tubes on the headset also align perfectly with the ear canals of the medical student.
If you decide to choose the Littmann Select Stethoscope for your studies, be sure to check out the different colours available at Mentone Educational!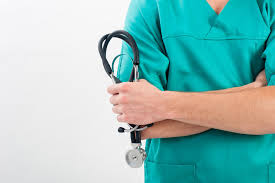 What Stethoscope Do We Recommend for Medical Students?
We usually recommend a stethoscope from the Littmann range for medical students, more specifically the Littmann Select Stethoscope mentioned in the previous section.
Medical students who choose a stethoscope for their training should consider that most of these stethoscopes could provide some difficulties in everyday medical practice. Therefore, we suggest choosing a more advanced stethoscope once you pass medical school.
The problem with most stethoscopes for medical students is that they have problems detecting grade I murmurs; this makes them less suitable for everyday practice. However, stethoscopes for medical students do provide everything required for general diagnosis and general auscultations.
If you decide to invest in a stethoscope used by doctors during your training, you can still count on the Littmann range. Popular Littmann stethoscopes for doctors and nurses includes the Littmann Classic II Stethoscope, Littmann Cardiology, and the Littmann Classic II Stethoscope. So, if you are considering something more advanced, be sure to check out these options too.
Unfortunately, there is a price difference between stethoscopes for medical students and stethoscopes for doctors. If you are a student, it can be harder to make that investment. Therefore, a decent medical student stethoscope might be the most common choice amongst medical students.
Which Stethoscope Should You Purchase If You Are a Medical Student?
As mentioned earlier, there is a clear difference between medical student stethoscopes and stethoscopes for medical professionals. Therefore, your choice will be subject to the budget you have available at the time of purchasing.
Medical students can count on the advice of the Mentone Educational team too. If you want to get more familiar with stethoscopes for medical students, we certainly suggest dropping by at the Mentone Educational showroom. During your visit to the showroom, you can speak to our customer representatives and ask for some recommendations. You can also get more familiar with the range of stethoscopes we have available for medical students.
Of course, not everyone has the time to visit the Mentone Educational showroom; this is one of the reasons why we provide so much information online. Medical students can read up on the specifics of each stethoscope, but also some of the other medical equipment available at Mentone Educational.
Could you use some recommendations or assistance, but no time to come to the Mentone Educational showroom? If so, you can always contact our team of customer representatives. Simply contact our team via chat, email, or telephone to acquire more information.