Are You a Student Searching for the Best Stethoscope? Discover Our Useful Guide for Students Below!
Author: Nicole Adler Date Posted:14 March 2018


Many students studying in the medical field may require a good stethoscope. Of course, the stethoscope needs of a medical student will be different than those of a graduated clinician. To help students find a stethoscope to fit their needs, we have created a useful guide below. So, if you are currently looking for a student stethoscope that fits your requirements, please read the information below.
What Is the Best Brand Stethoscope for a Medical Student?
There are probably hundreds of brands to choose from, but only a select few provide a good quality and affordability ratio. Affordability is important for students, because with the expense of medical school, most students cannot afford to invest heavily into a stethoscope.
One of the best brands that delivers a good balance of quality and affordability is Littmann. This brand is also one of the preferred brands of medical professionals, so many students continue to use their Littmann stethoscope after graduation.
What Features Make a Stethoscope Ideal for a Student?
Even though the stethoscope requirements of medical students are quite different than those of graduated clinicians, the features are still important! Remember, you must be able to detect important sounds that could determine a diagnosis, so acoustics will be one of the most vital features of your stethoscope.
The stethoscope brands provided at Mentone Educational all provide outstanding acoustics. Available brands include Liberty Health, the American Diagnostics Corporation, and Littmann. All stethoscope models provide outstanding acoustics too, so students will have a variety of stethoscopes to choose from.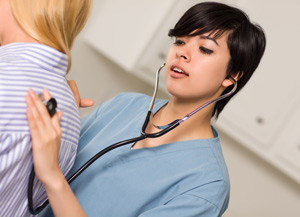 What Should a Student Consider Before Purchasing a Stethoscope?
As we mentioned earlier, the requirements for students are different than those of graduated clinicians. There are some things to consider before purchasing a stethoscope too, and one of the most important things for students will be price.
Before you obtain a stethoscope, be sure to determine your budget. What can you affordably spend on a new stethoscope? Based on the answer, you can filter down the possibilities a little more.
Aside from price, also look at the term you will use the stethoscope for. For example, some students only use their student stethoscope during their studies, and upgrade to a more advanced stethoscope after they graduate. Of course, there are also students who buy a top-of-the-line stethoscope right away. So, before you obtain your stethoscope, you must determine which group you fall into.
What Stethoscope Model Should a Medical Student Purchase?
Many students contact Mentone Educational to obtain a personal student stethoscope recommendation. We can recommend many different options for medical students, but one of our most common suggestions is the 3M Littmann Classic III Stethoscope. The 3M Littmann Classic III Stethoscope is an outstanding stethoscope choice for students and can be used far after the student graduates from medical school.
The 3M Littmann Classic III Stethoscope provides any medical student with outstanding acoustics. The design of the stethoscope has a pressure-sensitive diaphragm; this means that students can easily distinguish between low and high frequency sounds without having to turn the chestpiece.
A 3M Littmann Classic III Stethoscope is remarkably comfortable too! The headset has an anatomical design, where the ear tips align with the ear canals of the student. The ear tips are also soft-sealing ear tips. These seals reduce ambient noise from busy medical environments, but also feel extremely comfortable in the ears.
The benefits mentioned above are just some of the main benefits of the 3M Littmann Classic III Stethoscope, so there are many other features that make this stethoscope a good choice for the medical student. To uncover all the benefits of the 3M Littmann Classic III Stethoscope, please head over to the product description page of this stethoscope on the Mentone Educational website.
What Stethoscope Model Should a Nursing Student Purchase?
Even though nursing students could purchase the same stethoscope as medical students, a nurse's stethoscope does not have to meet the same criteria where acoustics are concerned. Therefore, nursing students could save some money by choosing a stethoscope that is specifically designed for them.
Mentone Educational provides a range of stethoscopes specifically designed for nurses. One of our personal recommendations is the Littmann Select Stethoscope, an electronic stethoscope that provides good acoustics and can be used on adults, infants, and paediatric patients. It is also an electronic stethoscope, which means it does come with a couple of extra features nurses will find interesting.
Are you considering buying a nurse's stethoscope and want more recommendations from our Mentone Educational team? Need some help to find your way in our large collection of nurse's stethoscopes? Get in touch with our Mentone Educational team via email, telephone, or chat function for some assistance. Alternatively, you can also drop by at the Mentone Educational showroom and speak to our representatives in person.