Nurses Stethoscopes
Nurses use stethoscopes daily in multiple ways which, combined with nursing knowledge and skill, matter to care and patient outcomes. Nurses have historically used stethoscopes for various functions at different times. In the 1930s, nurses first began to routinely use the stethoscope to measure blood pressure. The expanded utilisation of nurses Stethoscopes in the following decades reveals the changing scope of medical practice.
More
In the 1970s, nurses began to routinely use stethoscopes to perform abdominal and chest assessments. Nurses can tune into the gastrointestinal problems of patients if they are skilled in listening to bowel sounds and know how to interpret them. Auscultation requires skill and interpretation on the part of the nurse and this nursing knowledge is vital to prognosis and recovery. The expanded role of the nurse in physical assessments in modern medicine has transformed nursing practice in key ways.
Nurses Stethoscopes at Mentone Educational
Here at Mentone educational, we are pleased to offer a wide range of nurses stethoscopes from leading manufacturers including ADC, Liberty and ALP K2. Choosing the right stethoscope for you is important, and we will highlight various considerations that you may want to take into account when choosing your optimal Nurses Stethoscopes.
Weight: The weight of the stethoscope may be significant for you, particularly when you consider that you will be carrying it around much of your practice day.
Size: Will it fit in your lab coat or uniform and not wear holes in your pockets? The materials used in the stethoscope's construction may limit your choices.
Length: Length and type of tubing are practical considerations, so opt for a length that suits your height and does not require you to bend more than needed
Allergies: Allergies to latex, nickel, and some plastics may require you to choose stethoscope models with hypoallergenic materials rather than standard instruments.
Your comfort: Your comfort during the whole working day is very important.
The patients comfort: Some stethoscope diaphragms can be very cold on the skin of patients, particularly in colder climates.
Location: Where you practice may influence the kind of stethoscope you want for your practice.
Specialities: With the multifaceted nature of nursing today, your nursing tools may require accommodation for specific applications.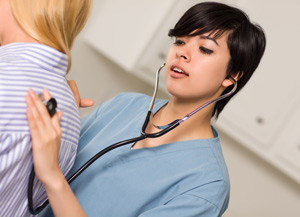 How do I choose the best nurses stethoscope for me?
The number of choices and possibilities can be overwhelming, but the good news is that there is a stethoscope suitable for you and your practice. Just draw up a list of the most important things that matter to you, your patients, your nursing location and possibly your speciality. Of course, you can add personal wishes such as colour – many nurses stethoscopes now come in a variety of colours to match scrubs or uniforms. Nurses Stethoscopes often get mislaid or inadvertently picked up by the wrong person too in busy working environments, so making sure your stethoscope has your name written on it may be helpful. Check out our buyer's guide here.
What does the nurses stethoscope provide me with?
Your stethoscope is a non-invasive tool for knowing what is going on inside your patients. A lot of basic information about circulation, digestion, breathing, muscle activity (particularly the heart), even joint function, etc. can be gathered when you use a stethoscope. All bodies produce sounds that reveal the various activities, and with a stethoscope, you can collect those sounds, listen to them, and make judgments about body functions.
What are the essential parts of a nurses stethoscope?
The parts of all types of stethoscope include the following:
ear tips
ear tube
tubing
headset
stem
chest-piece
diaphragm and
bell.
The sounds that are created in the body of the patient are picked up through the diaphragm or bell end of the stethoscope, which is pressed against the chest, back or stomach of the patient. From the chest-piece, which houses the diaphragm/bell, the sound then travels through the tubing and into the ear tubes before being passed into the ears where the user can hear the patient's heartbeat, lungs and other internal sounds.
What are the benefits of a tunable stethoscope?
Tunable, or dual-frequency, stethoscope diaphragms combine the bell (for low frequencies) and the diaphragm (for high frequencies) into a single side of the chest piece. You can move between bell and diaphragm modes by simply varying the pressure applied to the patient without the need to turn the chest piece over. Rest the chest piece lightly on the patient to hear low-frequency sounds, while for high-frequency sounds, a firmer contact pressure on the chest piece is required.
Stethoscopes for all types of health professionals
As well as nurses stethoscopes, Mentone Educational also provides stethoscopes for clinicians including cardiologists and paediatricians, students and teaching uses. Check out the whole range of stethoscopes available from Mentone Educational here.
What are the best stethoscopes for nurses?
#1 - 3M Littmann Classic II Pediatric Stethoscope
Ideal for paediatric nurses, the Littmann Classic II stethoscope features a dual-sided chestpiece with a small 3.3cm diaphragm. The design also provides comfort for patients with its non-chill rim, and comfort for the practitioner with soft-sealing ear tips providing excellent acoustic sound.
#2 - Littmann Select Stethoscope
The Littmann Select is a great, economical stethoscope that comes in a range of colours and with a 2-year warranty. The tuneable technology allows you to easily switch from low to high frequency sounds, and the comfortable snap-tight eartips reduce ambient noise, making them perfect for nurses working in busy hospital environments.
#3 - Adscope Sprague 647 Stethoscope
The Sprague Stethoscope (Adscope 647) is made specifically for nurses, and includes an accessory pouch containing everything needed to monitor a wide variety of patients. The threaded chestpiece drum allows the use of five interchangeable chestpiece fittings; a paediatric diaphragm, an adult diaphragm, and three bells, making this a great economical option for many nurses.
#4 - Liberty Classic Tunable Stethoscope
The Liberty Classic tuneable stethoscope is ideal for nurses as it is simple to use and maintain, and comes in a range of stylish colours. The comfortable and light design features non-corrosive titanium, Superflex binaural tubing, non-chill rings, and an innovate pressure sensitive diaphragm with an advanced soft ear tip.