The Ultimate Guide to Obstetrician Stethoscopes! Read Our Guide Today!
Author: Nicole Adler Date Posted:14 March 2018


Specialists could benefit from getting a stethoscope that provides them with their unique requirements. The same applies to obstetricians looking for a stethoscope, specialists who require outstanding acoustics and other important features. To learn which stethoscopes might be best for obstetricians, please read the guide provided by the experts at Mentone Educational.
What Are the Best Stethoscopes for Obstetricians?
There are various stethoscopes that are preferred by obstetricians. While looking at the most beloved stethoscopes, we noticed that these stethoscopes usually have some features in common. Below, we have listed those features, so you will find it a little easier to choose in a large selection of obstetrician stethoscopes.
Firstly, comfort seems important for obstetricians. Their stethoscope is usually lightweight, but also features an anatomical design that aligns with the ear canals. The combination of these features ensures that the stethoscope can be hung around the neck for long periods, but also ensures that the use of the stethoscope is extremely comfortable.
Secondly, the acoustics of the stethoscope is also an important feature for obstetricians. Most obstetricians prefer a stethoscope with a tuneable diaphragm, which allows them to distinguish between low and high frequency sounds easier and quicker. Even though there are some obstetricians who use a dual-headed stethoscope with a bell, stethoscopes with a tuneable diaphragm seem to be the most popular.
In addition to the important features we mentioned above, there are additional features that are valued by obstetricians. So, before you decide on a stethoscope, be sure to ask yourself what other features you value above others.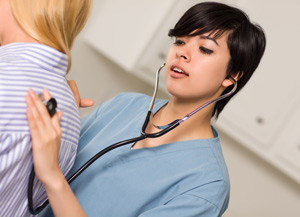 What Stethoscope Brands Should Obstetricians Consider?
At Mentone Educational, you can find three brands that stand out head and shoulders above the rest for obstetricians; this includes Liberty Health, the American Diagnostics Corporation, and Littmann. Each of these brands provides stethoscopes with the features mentioned above, but also other features that obstetricians are looking for.
What Should an Obstetrician Consider Before Purchasing a Stethoscope?
The features of your stethoscope are the most important factor of buying a stethoscope, but so are your personal preferences. The stethoscope you end up with should feel comfortable while it is being used, but it should also be easy to operate for the obstetrician.
To determine the best stethoscope for your own personal needs, we usually recommend visiting the Mentone Educational showroom and requesting a demonstration of the most popular obstetrician stethoscopes. Based on the demonstration, you can determine which of the advanced stethoscopes are most comfortable to you.
Would an Obstetrician Benefit from a Stethoscope with a Tuneable Diaphragm?
Stethoscopes with a tuneable diaphragm are certainly counted amongst the favourite stethoscopes of obstetricians. This has a good reason though, since tuneable diaphragms can make diagnosis clearer and the use of the stethoscope easier.
A tuneable diaphragm on a stethoscope makes it possible to distinguish between low frequency and high frequency sounds without having to turn the chestpiece. Instead, the obstetrician simply adjusts the pressure on the chestpiece, more specifically a low pressure for low frequency sounds and firm pressure for high frequency sounds.
The strength of stethoscopes with tuneable technology is that they allow a full-range of sound frequencies. When compared to many stethoscopes that do not have tuneable technology, stethoscopes with tuneable technology tend to be more effective, especially where lower sound frequencies are concerned.
Stethoscopes with tuneable technology also enable clinicians to better isolate sound. It also allows for more consistency. So, these two features will undoubtedly prove useful during the diagnosis of more difficult cases.
How Often Should an Obstetrician Clean Their Stethoscope?
No matter what field of medicine you work in, a stethoscope should be cleaned daily. The stethoscope is an extension of the clinician's hands; this means that if this extension is dirty, it could spread infection, bacteria, viruses, and other nasties you want to avoid in a medical environment.
Fortunately, the maintenance of an obstetrician's stethoscope is quite straightforward. One prime example of a stethoscope that is used by obstetricians and that is easy to maintain is the Littmann Cardiology IV Stethoscope. The chestpiece of the stethoscope is easy to disassemble, but also reassemble. The overall design of the stethoscope does not contain crevices either; this ensures that dirt and grime cannot start to pile up after repeated use.
For a full overview of the maintenance of your stethoscope, please refer to the instructions that accompany your new stethoscope. When you purchase a stethoscope at Mentone Educational, instructions on the maintenance of the stethoscope are always included. Misplaced your instructions? View the information pages on the Mentone Educational website to find everything you must know about your stethoscope's maintenance.
Do you have any further questions about the maintenance of your stethoscope? Contact Mentone Educational today for more info.