Buyer's Guide for Stethoscopes for Paediatricians
Author: Nicole Adler Date Posted:19 January 2018


Paediatricians require a dedicated stethoscope suitable for paediatric and neonatal patients. At Mentone Educational, paediatricians will find several stethoscopes that have been designed for this purpose.
Below, paediatricians can find more information about the functions most useful for stethoscopes used on paediatric patients. Be sure to read on to make your stethoscope choice a little easier.
Paediatric Patients
The best stethoscope for paediatric patients will be specifically designed for these patients. However, there are some stethoscopes that provide dual functionality; this means the stethoscope can be used on both paediatric and adult patients. Still, to ensure the stethoscope is suitable for paediatrics, please make sure the diaphragm of the chestpiece measures 3.3 centimetres.
Patient comfort becomes even more important for paediatric patients, who may feel quite uncomfortable being examined. Therefore, a good stethoscope with a non-chill rim will be essential for any physician or nurse working in paediatrics.
For paediatric patients, stethoscopes also require outstanding acoustic abilities. Therefore, it is best to go for recognised brands with proven acoustics; this may include brands such as Littmann and the American Diagnostics Corporation.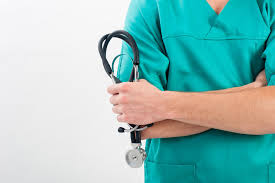 Classic II Paediatric Stethoscope
One stethoscope that meets the requirements for paediatric patients is the Classic II Paediatric Stethoscope. The stethoscope is specifically designed for paediatric patients, containing a dual-sided chestpiece with a diaphragm of 3.3 centimetres.
Paediatricians and nurses who choose the Classic II Paediatric Stethoscope for their profession can find plenty of versatility in this model. The dual-sided chestpiece provides the choice between diaphragm and open bell, ensuring the best acoustics on the job.
To ensure the comfort of paediatric patients, the Classic II Paediatric Stethoscope also comes with a non-chill rim; this makes the physical examination a little more comfortable.
Littmann stethoscopes are also known for their comfort for medical professionals, so such benefits can also be expected from the 3M Littmann Classic II Paediatric Stethoscope. The headset is made from an adjustable wide-diameter aerospace alloy and anodized aluminium, while the ear tips of the headset are soft-sealing.
The soft seal on the ear tips of the Littmann Classic II Paediatric Stethoscope provides the perfect acoustic seal; this makes the stethoscope also suitable for hospital environments, which often deal with lots of ambient noise.
Finally, the Littmann Classic II Paediatric Stethoscope is made with a material called next-generation tubing, which is patented by Littmann. By using this material, Littmann can avoid latex and phthalate plasticizers, which could cause allergic reactions in paediatric patients.
3M Littmann Classic II Paediatric Stethoscopes
Littmann stethoscopes are not just recommended for paediatrics, because the company also manufactures other specialist stethoscopes. In addition to paediatrics, medical professionals can also find stethoscopes for cardiology units, general practice, and other medical environments.
Fortunately, Littmann stethoscopes provide similar features across the board; this means that you can always count on special features such as next-generation tubing, acoustic seals, and dual-sided chestpieces.
Even though 3M Littmann is mainly known to produce stethoscopes, the 3M company manufacturers other products too; this includes cleaning products, home improvement items, and even school supplies. 3M also provides a great range of various healthcare products aside from stethoscopes; this includes frequent product releases in the field of bioprocessing, drug delivery systems, food safety, health information systems, medical devices, medical device components, and personal health care.
Littmann Classic Stethoscopes
Whether you work in paediatrics or another medical field, it is always a good idea to take a closer look at the Littmann Classic Stethoscopes. Littmann Classic Stethoscopes are known for versatility and functionality, so they may prove the best choice for many hospitals, clinics, and doctor surgeries. Classic Littmann stethoscopes are frequently used by students too.
Littmann Classic Stethoscopes tend to be similar across the board, although there can be minor differences where diaphragm size is concerned. Some Littmann stethoscopes may have additional features, so it is certainly worth doing some comparing before purchasing your stethoscope.
It is also important to know that the tuneable diaphragm is an invention of the 3M company, which is the company that manufactures the range of Littmann stethoscopes. The tuneable diaphragm makes it easier to listen to sounds of different frequencies, since the device enables you to quickly switch between low and high frequencies by adjusting the pressure.
All Littmann Classic Stethoscopes are made with next-generation tubing too, something we have mentioned briefly earlier. This material is not only safe for patients suffering from latex allergies, since next-generation tubing also has better resistance against skin oils and alcohol.
Do you have additional questions about Littmann stethoscopes? Or could you use some advice on the purchase of a new Littmann stethoscope for your clinic or your practice? For more information about our Littmann stethoscopes, or simply to acquire some recommendations for your new stethoscope, be sure to contact the Mentone Educational team via email, chat, or telephone.