Buyer's Guide for Stethoscopes for Student Nurses
Author: Nicole Adler Date Posted:19 January 2018


Student nurses are professionals in training that will require a good stethoscope for their training. Unfortunately, most student nurses often forget to invest in the quality they need, and this could affect their training. Are you looking for the best stethoscopes for nursing students? Check out the information below, provided by Australia's leading stethoscope retailer Mentone Educational.
What Is the Best Stethoscope for Nursing Students?
One of the recommended stethoscopes for nursing students is undoubtedly the Liberty Classic Tuneable Stethoscope. Not only is this a recommended stethoscope for student nurses, it is also the most popular choice amongst doctors and nurses.
The Liberty Classic Tuneable Stethoscope is made from a lightweight and non-corrosive titanium material; this ensure premium durability and resistance for this stethoscope. It also includes a superflex binaural system, which makes the device more durable and efficient on the job.
When you choose the Liberty Classic Tuneable Stethoscope for your nurse training, you will receive a stethoscope with a pressure-sensitive diaphragm. The pressure-sensitive diaphragm on the stethoscope allows the student to easily distinguish between high and low frequency sounds by adjusting the pressure; this means the student does not have to change sides during the examination.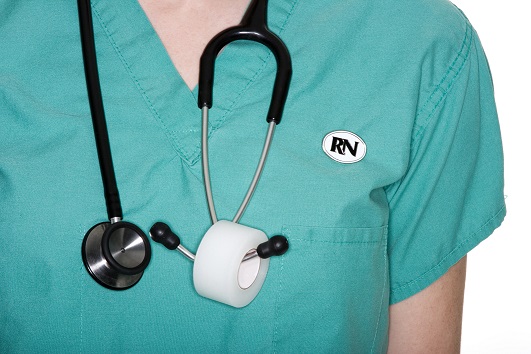 Good Stethoscopes for Nursing Students?
Student nurses who require a good stethoscope for their training certainly must look for certain features; this could make their training a little easier. Below, we have listed the main features student nurses should look out for in a stethoscope.
One requirement your stethoscope must meet is outstanding acoustics. Even though stethoscopes with high acoustics are used by specialists more often, better acoustics allow you to examine your patients better during training. Better acoustics also tend to be easier to learn with.
Another requirement for student nurses is durability, since student nurses will use the stethoscope a lot during their training. Even though they might not use the stethoscope as much during their professional life, the stethoscope will be used almost daily during training.
In addition to durability, you also want a stethoscope that is comfortable for you. As a student nurse, it is likely you will run around with your stethoscope a lot; this includes hanging the stethoscope around your neck. Therefore, please make sure your stethoscope does not weight too much and go for a lightweight stethoscope.
Best Littmann Stethoscope for Nursing Students
In addition to the stethoscope from Liberty Health we mentioned earlier, student nurses can also consider one of the Littmann stethoscopes available at Mentone Educational. Littmann stethoscopes have an excellent reputation, and are used by student nurses, doctors, specialists, and other people working in the medical field.
There are several Littmann stethoscopes to choose from for student nurses, since all Littmann stethoscopes provide the features we discussed earlier. Littmann stethoscopes also tend to provide some extras you will not find with other stethoscopes, which means they are certainly worth an investment.
At Mentone Educational, student nurses can find Littmann stethoscopes such as the Littmann Classic II Stethoscope, the Littmann Classic II Infant Stethoscope, the Littmann Cardiology IV Stethoscope, and many others. Since each of these stethoscopes could prove useful for student nurses, we recommend checking out the specifications of each of our available stethoscopes.
Of course, student nurses are not obligated to obtain a stethoscope from Littmann, since there are other stethoscope brands that may prove useful for student nurses; this includes stethoscopes from the American Diagnostics Corporation and Liberty Health. For more information about these stethoscopes, please refer to the Mentone Educational stethoscope catalogue.
Do Nursing Students Need a Stethoscope?
There is often a discussion amongst nursing students whether they should invest in a stethoscope or not. The short answer is yes, because a nurse will use a stethoscope on the job.
Nurses are confronted with a slew of tasks during their profession; this may include reading telemetry monitors, administer vasoactive medications, start IV's, take blood pressure, and numerous other tasks. As you can imagine, some of these medical tasks may require a stethoscope; this is something you will encounter during training too.
Of course, there are many other nursing supplies that may prove useful during your training and your profession later. At Mentone Educational, student nurses can also find this equipment. Available equipment that may prove useful for student nurses include a nurse's utility belt, thermometers, and more.
At Mentone Educational, student nurses can also find training models that could prove extremely useful during training. Good examples of such training models include the Foetal Doll Model for Nursing Education, the Central Line Training System, the Male Catheter Model, and more.
Do you have any questions about student nurse stethoscopes, or some of the training equipment available at Mentone Educational? For more information, or for some assistance, please contact the Mentone Educational team via email, telephone, or live chat.