Catheterisation and Urology
Urethral catheterisation is a medical procedure whereby a latex, polyurethane, or silicone tube known as a urinary catheter is inserted into a person's bladder via the urethra. Catheterisation is most commonly performed to drain a person's bladder of urine. It may also be performed to inject liquids for treatment or diagnosis of bladder conditions. Clinicians such as nurses, doctors and other medically trained professionals perform the procedure routinely throughout hospitals, medical rooms, aged care facilities, and even in the home.
More
Learn More About Our Catheterisation Trainers
Catheterisation is therefore one of the basic skills nursing and medical students must learn and practice until competency is achieved.
Mentone Educational offers a wide selection of male and female urinary catheterisation trainers for medical skill training which can be used by all clinicians. Using the clinical skill trainers, students will become familiar with the differences between male and female catheterisation, to be able to effectively practice the correct techniques in preparing, inserting, changing, and maintaining indwelling catheters.
Healthcare professionals, medical and nursing students can practise on male and female catheterisation simulators that represent different age groups- including neonatal, paediatric, and adult patient simulators.
Our range of catheterisation simulators includes: Nasco (Life/form, Simulaids), Sakamoto, 3B Scientific, Health Edco, CLA and Erler-Zimmer. In addition to teaching and practising the skill of catheterisation, these simulators allow anatomical identification and demonstration and practise of perineal care.
Healthcare professionals, medical and nursing students using our catheterisation trainers will experience the normal restrictions caused by the mucosal folds, urethra, and internal urethral sphincter as they practise this procedure. Utilisation of catheterisation trainers teaches proper positioning and movement of the simulated human organs to allow practice of correct technique. Many of our catheterisation simulators require inflation or deflation of the catheter cuff (depending on whether insertion or removal is being practised, just like in a real patient. Additionally, you will find that most of our male and female catheterisation simulators provide 'flashback' of artificial urine or water once the catheter has been correctly inserted into the bladder.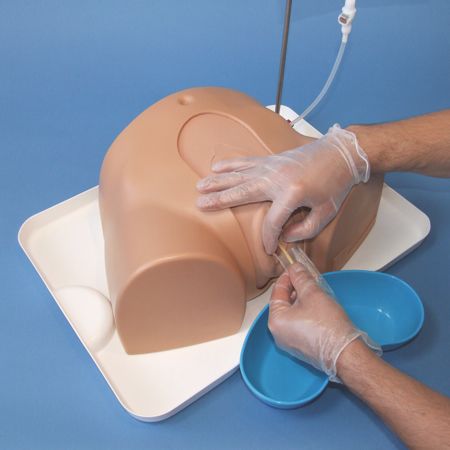 Male and female catheterisation simulators provide nursing and medical students the opportunity to learn and practise the procedure of catheterisation without embarrassment or discomfort to patients or students.
Our male and female catheterisation simulators are high-quality products sourced from trusted medical simulation manufacturers from around the world, including Nasco (Life/form and Simulaids), Sakamoto, CLA, 3B Scientific, Health Edco, and Erler-Zimmer. Mentone Educational believes in making simulation training accessible and affordable to everyone, and as such offers some of the most competitive pricing in the industry. As you browse through our range below, find out how you can fully equip your simulation centres and clinical teaching spaces with catheterisation simulators and part-task trainers from our range.
Quality Products for your Institution
Mentone Educational makes accessing accurate and reliable literature, tools, and equipment affordable and easy for even the smallest organisation. Working with reliable suppliers, we deliver a superior quality of product, to schools, doctors' practices, teaching hospitals and more, making it simple to outfit your business with the best.
Order today for fast delivery anywhere in Australia, or get in touch with our staff with any questions and we'll be happy to help. Call on +61 3 9547 6638 or send us a message through our enquiry form and we'll get back to you as soon as possible.