Demo Dose / Simulated Medications
Demo Dose® Simulated Medications are a valuable tool in the teaching of medication dispensary, administration, and management. Demo Dose® Simulated Medications are designed to be used in the education of nursing, medical, paramedical and pharmacy students. Trained clinicians can also benefit from the Demo Dose® range when upskilling or learning about new medications in their field.
More
Demo Dose® Simulated Medications come in realistic packaging and appearance to ensure they are mimicking the real medication as closely as possible. The Demo Dose® range can be used to teach people from all levels of medication administration competency – from beginners to experienced practitioners.
The importance of correct drug administration can be a matter of life and death, making the Demo Dose® Simulated Medication range and invaluable teaching tool. Nurses, doctors, paramedics, pharmacists, and other professionals can use Demo Dose® Simulated Medications to safely practise their drug administration skills without risking harm to real patients.
Recurrent practise of medication administration is a vital part of continuing professional development for clinicians of all types, to ensure safe practices are being maintained, and important drug administration protocols are being followed. Demo Dose® Simulated Medications allow for ongoing education and practise in a safe and controlled environment, thereby eliminating the risk to real patients.
Demo Dose® Simulated Medications are used in Universities, Registered Training Organisations, private colleges, hospital training centres, TAFEs and other tertiary education facilities, and simulation centres across the globe.
The range of Demo Dose® Simulation Medications is vast, consisting of vials, ampoules, and other intravenous preparations, pre-filled syringes, oral capsules, tablets, and caplets, creams, ointments, drops, inhalation medication, syrups, and medication cards. Demo Dose® Simulated red blood cells and other blood products (e.g. simulated platelets), are available in all blood types and are extremely popular learning tools with their life-like labels matching what is found in the clinical setting.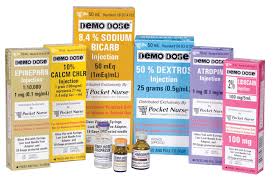 Other Demo Dose® products include Demo Sutures™, Inject-Ed™ training pads, simulated urine, Jevty tube feeding preparation, Simbases to teach the skill of compounding in your pharmacy, simulated Total Parenteral Nutrition (TPN) compounding kits, and medication labels.
Demo Dose® Simulated Medications cover-off all areas of clinical practice with their range of emergency medications, long-term medication cards, intravenous antibiotics and intravenous fluid bags, chemotherapy, respiratory medicines, diabetic medications, pain relief and controlled substances, optic, otic, and topical preparations. Whether you are teaching your staff and students about drug administration in cardiac, respiratory, oncology, palliative care or dermatology areas of practice, Demo Dose® Simulated Medications have the product you need.
Affordably priced, Demo Dose® Simulated Medications are intended to be easily implemented into your simulation environments, and incorporated into both new and existing medication administration scenarios.
Developed by Pocket Nurse®, and sourced through our trusted U.S. supplier Nasco, Mentone Educational are proud to bring you the high-quality range of Demo Dose® Simulated Medication products. As you browse through the range below, find out how you can fully equip your simulation centres and teaching laboratory environments with Demo Dose® Simulated Medications for all your education purposes.
Quality Products for Your Institution
Mentone Educational makes accessing accurate and reliable literature, tools, and equipment affordable and easy for even the smallest organisation. Working with reliable suppliers, we deliver a superior quality of product, to schools, doctors' practices, teaching hospitals and more, making it simple to outfit your business with the best.
Order today for fast delivery anywhere in Australia, or get in touch with our staff with any questions and we'll be happy to help. Call on +61 3 9547 6638 or send us a message through our enquiry form and we'll get back to you as soon as possible.