Veterinary Simulators
Mentone Educational is pleased to offer Australia's leading range of low and high fidelity Veterinary Skills Simulators. Our range of simulators are targeted to enrich the education of Veterinary Technicians, Veterinary Nurses, GPs and Generalist surgeons.
More
How have Veterinary Nurses and GP's trained historically?
Veterinary skills education is an important part of education for students to acquire the requisite skills to be ready for treating real patients. For many years skill training has been based around terminal surgeries and cadaveric specimens. However, in recent times there has been a growing movement to challenge the status quo from a safety, ethical and cost perspective. Therefore, there has been a push in the academic world to challenge the way the students have been educated and see if there are other alternatives which can offer a alternative solution without compromising educational outcomes
What are Veterinary Simulators?
Veterinary simulators are synthetic trainers which allow students to practice skills multiple times to be able to perfect them. Animal trainers can range from a task trainer which will focus on a specific skill to a full high-fidelity veterinary simulator which is designed to replicate a full animal and all the scenarios which would be faced by a clinical specialist.
How is Veterinary Simulation Changing?
Veterinary simulation is a rapidly evolving area specifically over the past few years. Whilst this has not been a core focus over previous years, like the human space the value of simulation is now being more widely recognized. Universities teaching animal studies and Veterinary courses are now installing self-directed learning spaces and simulation centers. Students are valuing the opportunity to practice before their first confronting experience whether it be on a cadaver or a life case.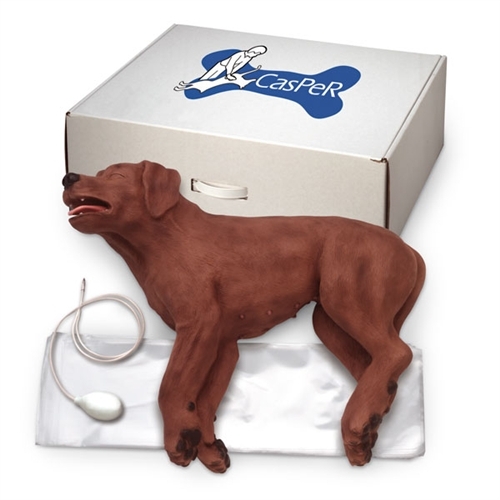 What are the kinds of Veterinary / Animal Simulators Available?
Mentone Educational is pleased to offer a range of high and low fidelity veterinary simulators to suit all needs and budgets. We have a number of basic part task trainers which can train students to be able to learn the following skills:
IV Access and cannulation – The Canine IV leg manufactured by Life/From is a economical skills trainers complete with synthetic blood and blood bag. This simulator provides flashback to provide feedback for correct placement and procedure
CPR (First Aid Training) – Casper the CPR trainer from Life/From is a full body canine which comes complete with lung bags to allow a student to learn the right technique in terms of ventilation and compressions during emergency situations.
Airway Management and Intubation - Mentone Educational is pleased to partner with SynDaver to offer the world's most realistic canine airway trainer. Designed in collaboration with clinicians and airway specialists this trainer has a realistic tongue, airway and lungs. The anatomically accurate lungs can be inflated to provide feedback as to the correct intubation technique
Surgical Procedures – Mentone Educational is the exclusive distributor of the SynDaver surgical canine the highest fidelity and accurate animal simulator on the market. The SynDaver canine is complete with anatomically accurate vasculature which is fitted with a pump for real life pulse simulation. The canine is designed to be utilsed to complete in excess of 27 procedures including:

Foreign body removal
Spay (ovary removal)
IV insertion
Intubation
Tracheotomy
And many more
Which Brands do we stock?
SynDaver Labs
Operating for over 20 years in Tampa America Syndaver have prided themselves on offering the most realistic and accurate simulators on the market. The SynDaver canine developed in collaboration with University of Florida one of the leading Veterinary schools is far and away the most accurate simulator on the market.
Nasco
Life/Form a brand of Nasco is focused on providing affordable and practical healthcare to all. Nasco's Casper and sanitary dog is the standard for CPR and basic animal first aid and has been used widely in the market for a number of years.
Contact our experts today!
Mentone Educational has a number of clinical experts on staff who have years of experience in the Veterinary space to assist you in providing the correct solution for your simulation center, animal hospital or private clinic.