CPR, Basic Life Support, Rescue & First Aid
To ensure that first aid course students are well prepared in an emergency, Mentone Educational provides a range of realistic, high-quality CPR models and supplies. Designed to meet the latest CPR guidelines, our collection of manikins ensures that your students are able to put into practice what they've learned in the classroom.
---
View our range of First Aid & CPR Training equipment, manikins and resources
Our range includes products from respected brands, including,
In addition to our range of CPR manikins, we also stock a range of consumables and supplies. Our lung/mouth bags are a disposable cover for our manikins, ensuring that there's no risk of cross-contamination. They also eliminate the need for sanitation of manikins between uses. Our CPR manikins start at the basic buddy which will teach basic levels of technique and is a light resiliant manikin which is perfect for schools and CPR courses. Our next option available is the CPR Prompt Manikins and the Brayden CPR manikin which provide feedback on the depth of CPR with either a clicker or a LED lights. The Brayden CPR manikin provides feedback in the form of LED lights for speed, depth and accuracy in line the American Heart associations guidelines for CPR. Mentone Educaitonal's range of CPR manikins also includes the CPR Lily from 3B Scientific. This manikin provides quality CPR which interfaces with a tables to provide a full simulation which can be run for a class and provide feedback of their respective performance over time. Equip your school with advanced, responsive First Aid & CPR Training Aids and models.
With child and adult manikins, it's easy for educators to demonstrate the difference in resuscitation techniques. These units offer true-to-life resistance and assistance for hand placement.
Getting real-time feedback is crucial for students who are just learning how to perform CPR. Our range of models offers realistic chest inflation, enabling both teacher and student to easily assess the student's progress.
Our range is offered in a variety of skin tones to enhance the realism of the unit. Certain models are also equipped with light-up sections to indicate blood-flow, helping the student to understand not just CPR technique but it's underlying goal.
Our First Aid Training Catalogue Explained
First aid training is an essential for many employees and volunteers, not only in the medical industry, but workplaces around Australia. To ensure employers are properly prepared to provide quality first aid training to their staff, we provide an entire catalogue of first aid training equipment. Want more information about this catalogue? Please read the information below to learn more!
What Are Training Manikins?
Training manikins have a variety of purposes in first aid training. They can be used to teach CPR, resuscitation, general first aid, and much more.
The training of certain skills on real people can sometimes be impossible, but despite this training still needs to take place. This is where our training manikins come in. They enable you to practice life-saving skills without the need for an actual person.
Who are our CPR Manikins Designed For?
Schools - Mentone Educational stocks basic CPR manikins specifically designed for educating students in the basic and critical aspects of CPR. We recommend the Basic Buddy Range ranges and CPR Promps for Nasco as good durable manikins which can be used for all your classroom needs. These manikins come with the added benefit of being available in both adult, child and infant CPR manikins.

Training Organisations - For the increased requirements of the CPR training organisation we offer the Brayden CPR manikin range which is available in the Brayden Basic, Brayden Bloodflor and Brayden Pro. This unique manikin has instant feedback in the form of LED lights.

Universities and Hospitals - For the more advanced trainer we offer the Brayden PRO and CPR Lily. Both of these manikins offer real time quantitative and qualitative feedback to give meaningful learning outcomes.

What Are First Aid Supplies?
First aid supplies are an umbrella term for a collection of products that can be used to provide first aid. Now, these items can be quite diverse. It can include basics such as dressings, bandages, and plasters, but also more advanced equipment such as lung bags, face shields, and much more.
Naturally, the contents of a first aid kit depend on the environment you are working in. First aid kits in factories that work with equipment that may cause burns can include burn cream, compresses, and other emergency supplies that could help treat burn wounds. Of course, a day-care may have a kit with other supplies; this may include basic plasters and dressings.
To determine what first aid supplies you need for your workplace, evaluate the first aid needs of your environment. You can also contact our team for some additional information, who can recommend some of the essential first aid supplies you need.
What Is Casualty Simulation Equipment?
Casualty simulation equipment can help to train emergency responders, so this equipment is commonly found in medical environments. However, there are some workplaces that could benefit from these casualty simulators too since it enables trained employees to handle specific emergencies with greater efficiency.
In our range of casualty simulation equipment, customers can find items that could make training more realistic; this includes a trauma moulage kit, casualty simulation kit, EMT simulation kits, and more. So, if you want to ensure your employees are prepared for a specific emergency, you can certainly make things more realistic with casualty simulation equipment.
What Are First Aid Kits?
First aid kits are pre-made kits containing first aid supplies. As mentioned before, first aid kits vary in size and content, so the first aid kit used at a factory will be different than a first aid kit used at home.
If you cannot find the first aid kit with the contents you are looking for, you can always create your own. Simply head over to our range of first aid supplies to find the products you need for the perfect first aid kit.
What Are Rescue and Airway Manikins?
As we mentioned briefly earlier, some manikins are designed for specific training purposes; this certainly applies to rescue and airway manikins. Airway manikins usually have a more elaborate airway simulation system, enabling trainees to train first aid training related to the airways. Rescue manikins on the other hand are designed to provide specific rescue training; this could relate to fire or water.
Which Organisations, Institutions, and Medical Environments Could Benefit from This Equipment?
There are various organisations, institutions, and medical environments that could benefit from first aid equipment. Common places where you will find this equipment are schools, universities, clinics, and dedicated training organisations.
Can I View First Aid Training Equipment in Person Before I Make a Purchase?
Would you like some demonstrations of our first aid training equipment before you make a purchase for your school or training organisation? Organisations and institutions who are planning to get a range of our training equipment often require some demonstration in person, this enables them to get more familiar with the equipment, but also determine if the durability and quality meets their needs. If you would like a demonstration, you are more than welcome to visit the Mentone Educational showroom.
During your visit at the Mentone Educational showroom, you can view all our available first aid training equipment. Of course, you can also view some of our other products, which may include anatomy models, health education equipment and much more. So, for a full overview of what we can offer, be sure to drop by at the Mentone Educational showroom.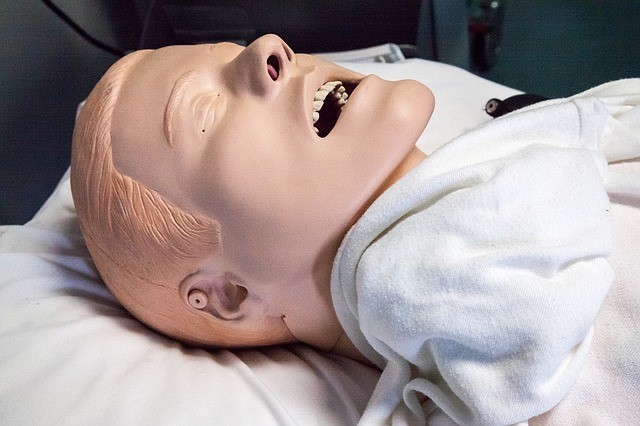 Where Can You Buy First Aid Supplies?
Mentone Educational does not only provide you with advice for the purchase of first aid supplies, we also provide health professionals and individuals with first aid supplies. So, if you wish to purchase any of the supplies mentioned here today, be sure to check out our first aid catalogue.
Where Can You Buy First Aid Kit Supplies?
Individuals and healthcare professionals can also count on Mentone Educational for all their first aid kit supply needs. Whether you need professional equipment for a healthcare environment, or first aid supplies for your home kit, Mentone Educational can provide you with them.
What Should Be on Your First Aid Supplies Checklist?
Creating your own first aid kit requires some knowledge, because there are some essentials that should be in this kit. Below, we have listed some of the essentials inside your first aid kit, so be sure to obtain them if you are looking to create your kit from scratch.
Plasters
One of the vital additions to your first aid kit is a set of plasters. However, we usually recommend more than one set, preferably in different sizes to accommodate for various scrapes and cuts.
Sterile Gauze Dressings
Dressings should also be in your first aid kit. Gauze dressings can be used for a variety of things; this includes cleaning a wound, keeping burn cream in place, and much more. Therefore, some sterile gauze dressings should undoubtedly be added to your kit.
Antiseptic Cream
One of the most used creams when it comes to emergency situations is the antiseptic cream, so there should be one in your first aid kit. A good antiseptic cream does not have to cost a lot though, because most are quite affordable.
A Thermometer
Another "emergency" tool you will use a lot is a good thermometer. You could consider one of the old-fashioned ones, but a digital one tends to be easier to use. Of course, make sure you have a children's thermometer in your kit as well as an adult one.
Bandages
You cannot have a good first aid kit without some bandages. They are used in various first aid situations; this includes to stem bleeding, hold dressings in their place, and provide added support. So, this is something that cannot be missing from your first aid kit.
Safety Pins
Every first aid kit should also contain some safety pins. These safety pins are commonly used to keep bandages into place. While you could use some plasters in some situations, you will find that most plasters do not have the strength to provide a long-lasting fix.
Cleansing Wipes
There are several types of cleansing wipes you can add to a first aid kit; this includes antiseptic cleansing wipes and normal cleansing wipes. Naturally, the types of cleansing wipes you will require is the antiseptic kind.
Antiseptic cleansing wipes can be used to clean wounds, cuts, abrasions, scrapes, and more. Of course, antiseptic cleansing wipes can only be used for minor emergencies. Larger wounds and cuts should always be attended by medical professionals.
Sterile Gloves
When you treat a wound, a cut, or an abrasion, it is always recommended to wear some sterile gloves. Direct contact with the wound could cause an infection of the wound, which means complications for the patient. So, be sure to add some sterile gloves to your first aid kit.
Sting Relief
Bug and insect bites are not uncommon and could lead to minor emergencies. Therefore, you should always have some bite and sting relief cream in your first aid kit. There are several types of bite and sting relief creams available, so be sure to choose several if you want to be prepared for every eventuality.
Antihistamines
The final thing you need in any first aid kit is a pack of antihistamines. Since allergies are not uncommon nowadays, a pack of antihistamines ensures you are always prepared for allergy emergencies.
Where Can You Purchase First Aid Kit Refill Supplies?
Need to refill some of the supplies in your current first aid kit? If so, you can also count on Mentone Educational. Our store provides you with new first aid kit supplies, but also some refills to keep your kit up-to-date.
Where Can I Buy First Aid Supplies Online?
Customers do not have to visit our store to obtain their first aid supplies, because Mentone Educational enables Australians to order their supplies online. Simply head over to our catalogue and add the first aid supplies to your cart.
Browse our Range of First Aid Training Equipment Today
At Mentone Educational, we've been assisting medical students and practitioners in finding the correct tools and equipment since 1979. Our collection is sourced from some of the most reputable manufacturers in the world, and includes crucial educational tools such as anatomical models and charts. We also provide a range of core diagnostic and clinical tools including callipers, stethoscopes and height and weight measurement devices.
Place your order through our online store, or examine our range in person at our showroom in Moorabbin. Our knowledgeable staff can help you find the right product for your class or clinic. Contact us today on (03) 9547 6638 or send us a message via email at sales@mentone-educational.com.au or through our contact form.