Synthetic Cadaver
Mentone Educational is pleased to be able to exclusively offer the world's only synthetic caver specimens. Developed and manufactured in America by Syndaver Labs our range of synthetic cadavers offers unrivaled realism to provide students and surgeons a platform to harness their skills and knowledge.
More
Why do we need Synthetic Cadaver Models?
In an ideal educational setting students and clinicians would have access to real life cadavers and cadaveric specimens whether they be wet or preserved. However, there are a number of issues which are limiting the ability for students to get access to cadaveric specimens.
Cost – To safely preserve and maintain cadaveric specimens is an expensive proposition with institutions spending >~$5,000 per year per body
Occupational Health and Safety (OHS) – The chemicals required to preserve specimens are often explosive or carcinogenic which requires significant safety measures to be implemented. Often laboratories are required to be explosive resistant to ensure the safety in the event of explosives
Availability – The notion of donating one's body to science is an extremely altruistic gesture and in some regions / countries availability is limited where demand for these resources are far greater than the available supply
Religion – In certain religions, specifically Islam devout followers do not want to handle deceased bodies
For these numerous reasons the need for alternatives both an anatomical and procedural perspective are essential.
Who can use these Synthetic Cadavers Models?
The SynDaver models are designed to be uses across a number of different disciplines and educational level. At a basic level the SynDaver anatomy model is used widely in high schools. High school students can gain a safe appreciation of internal and external anatomy with organs and all major anatomical structures evident. On the other end of the spectrum the SynDaver surgical model is designed to be able to provide comprehensive simulation for surgical training.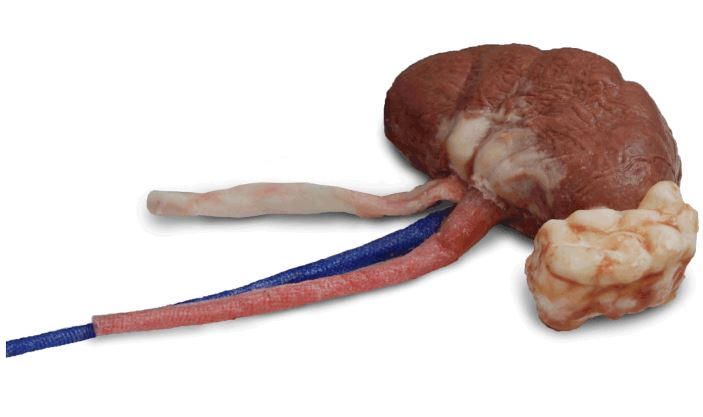 What do the Synthetic Cadavers feel like?
The SynDaver models are designed to feel as lifelike as possible. Constructed from hydrogels and saline polymers the tactile feel is like that of human / animal flesh. The material must be kept hydrated to ensure that the material feel like live flesh furthermore if the material is not hydrated the tissue will wither and well then need to be re-hydrated.
What are the tyes of Synthetic Cadaveric Models / Specimens?
1.Organ Models – Mentone Educational is pleased to offer a range of synthetic organ models including; stomach, uterus, spleen and liver including others. These models can be used for research and the study of
2.Anatomy Models – Human Anatomy Arm and Leg. Specifically designed for teaching exercise physiology, physiotherapy and basic anatomy these two models are highly detailed examples of musculoskeletal anatomy
3.Synthetic Anatomy Model and Musculoskeletal models – These two models are full scale representation of the human body. The Anatomy model is a model which includes organs and all key vasculature to give students an all-encompassing view of the human anatomy. In contrast, the musculoskeletal model is focused on the key anatomical land marks for studying movement of muscles and interactions with ligaments and bones.
4.Simulators – SynDaver offers a wide range of simulators which can range from chest tube draining to trauma vests which can be worn by simulated patients.
5.SynDaver Airway Trainers – Designed to aid in the practice of intubation for adults, children and infants.
Contact us to discuss!
Mentone Educational's team of staff have years of experience in the educational sector and in a clinical setting to be able to find the appropriate solution for your needs. We at Mentone Educational are constantly looking to source the most innovative and exciting products in the world and with a wide range of brands we will most appropriate solution from an educational outcomes perspective and a budget perspective.