Moulage Kits
Our interactive training scenarios and moulage kits are designed to be customized to your needs- from your facility, utilizing life-like three dimensional wounds that can be triaged, sutured, debrided, drained and even ruptured if handled aggressively.
More
Mentone Educational is proud to offer a wide range of moulage kits and casualty simulation products that are suitable for scenario-based training in emergency trauma management, first aid and primary patient care. Our high-quality products are produced by respected and reliable simulation manufacturers, Nasco. Mentone Educational's moulage products are used for all levels of medical and military training as they are of the highest professional quality and are exceptionally realistic, allowing users to become competent and confident in all forms of wound management.
What is a Moulage Kit?
Moulage is a French word meaning "casting or moulding". In a casualty simulation setting, it refers to the practice of creating realistic, life-like injuries for training purposes.
Historically, moulage products were first created to assist European scientists to better understand human anatomy, and took the form of wax-based anatomical models. Today, casualty simulation products are made from a wide range of materials to create realistic, three-dimensional wounds for all training scenarios. This provides users with the unique opportunity to develop proficiency in core clinical skills in wound management with life-like patients.
Types of Moulage Products
At Mentone Educational, you will find an extensive range of moulage kits and casualty simulation products for sale. When you buy simulation equipment from Mentone Educational, you are buying a high quality product that can be used at every level and in every field of medicine. They are suitable for all medical, nursing and military personnel looking for interactive training in specialised trauma and medical wound management. Emergency medical services, fire fighters, military personnel and other first responders primarily use trauma moulage while nurses, doctors, surgeons and other primary health care providers use medical moulage.
Wounds can be triaged, sutured, debrided, drained and even ruptured and come in many forms, including:
Trauma
Open fractures
Burns of varying types and degrees
Forensic wounds
Denture avulsion
Neonatal wounds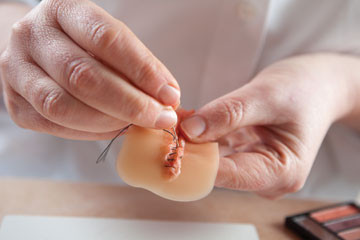 Moulage products come as basic, individualised body parts or wounds that can be adhered to patient care manikins, or advanced, comprehensive kits consisting of many moulage products, make-up, costumes and other theatrical products to provide increased realism for complex simulation scenarios.
Mentone Educational offers competitive pricing, ensuring every individual can access to practical and reliable moulage and casualty simulation products.
Which Type is Most Suitable?
Our high-quality products are available to buy in a number of different types and at several different prices. Our interactive, realistic moulage kits are designed to be customised to suit your training needs.
Basic moulage products are recommended for all medical and military personnel requiring training on a particular type of injury or wound on a single body part. They have a life-like physical appearance and allow individuals to practice specific procedures in a realistic yet controlled environment.
Advanced moulage and casualty simulation kits provide the same, scenario-based training as basic moulage products with the added benefit of including several different theatrical products to more closely simulate a complex trauma environment. The inclusion of multiple moulage products allows individuals to manage a casualty with several wounds, or to role play a scenario with more than one casualty. This creates a more challenging learning environment as individuals can learn to prioritise and treat multiple injuries.
Leading Brands We Stock
Nasco
Nasco has been a pioneer in creating hands-on teaching materials. Nasco's anatomical replicas and medical procedure simulators aid in the training of healthcare professionals. Simulators are not only anatomically correct, but each one is functional in the specific technique it teachers.
Equip yourself with the very best
Mentone Educational has made a name for itself by providing only the highest quality of physiology equipment and educational resources to schools, hospitals, practices and universities across Australia. Owned and operated by experts, we pride ourselves on delivering friendly, knowledgeable customer service, ensuring that our clients have the advice needed to make the most informed choice.
For information on any of our products, please do not hesitate to get in touch. Send us a message via email at sales@mentone-educational.com.au today or call us directly on (03) 9547 6638 at our Melbourne office for service across Australia.